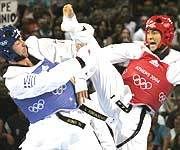 Since losing the gold on a technicality, the Koreans have been fighting-mad. Now with neither side willing to share in the glory, Korea is on the attack using their trump card–Kung Fu. Fueled by fury, Moon Dae Sung(left, in red) crushed the competition and brought home a gold for South Korea.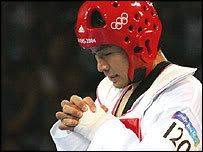 At the award ceremony, Moon was asked if this win eased Korean anger and if he harbored any ill-will towards gymnast Paul Hamm. Moon responded, "…Hamm I will break you" then he stood silently as he stared at the gold (right).
Sorry Paul, keeping the gold is one thing, but then giving a critique and suggesting the Korean was lucky to get bronze is weak. Your only option now is sepuku (ritual suicide).