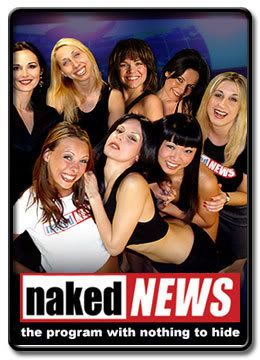 Lamers rejoice, no longer must you divvy up your valuable time between sexual gratification and information saturation. Starting August 16th, you can head over to NakedNews.com and get the bare facts, but is coverage fair and balanced or is there a cover-up?
A search of other so called 'news sites' like CNN and Reuters reveals a whole slew of coverage on Naked News, which is exclusively female, but not a mention of its sister site Naked News Daily Male, which is comprised of all male anchors. This kind of bias conjures images of the homophobic man who has no problem cheering on lipstick lesbians, but when it comes to men it's a whole different story.
Naked Broadcasting Network Inc. also dropped the ball when it comes to equality. What's worse, they did it for a profit. While membership for Naked News starts at $9.95, the male version is a whopping $19.87. Now I know they cant expect women who make some odd cents for every dollar a man makes to afford this. Meaning, the surcharge is for being gay. Now that's REALLY LAME. As a heterosexual, I refuse to sign up for Naked News until gays can get an equal price.
Side note: The writing of this article employed the full monty.