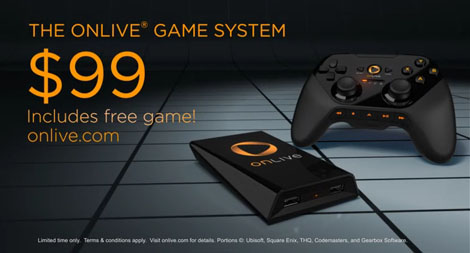 Who says you need a big expensive gaming rig to play the latest video games?
Onlive.com is taking pre-orders (Dec 2) for a virtual console that will allow gamers to play remotely on their internet-based (cloud) game servers.
There will be 35 titles available at launch including: Borderlands Game of the Year Edition, Just Cause 2, Mafia ll, NBA 2K11, Shaun White Skateboarding.
Game are a la carte with a choice of either 3-Day, 5-Day, or Full PlayPass. Unfortunately, Full is as much as $49.99, which is comparable to buying it in the store price except you won't be able to return it for store credit when you're done with it. In fact, you won't be able to return anything. OnLive has a strict "no refund" policy. The only exception is if a game is no long supported by the service. More worrisome is that a Full PlayPass only guarantees 3 years of support so if they decide a game isn't popular enough to suck up space on their servers or the company dissolves in 3 years 1 day, you're outta luck. Rentals range from $3.99 to $8.99, which could end up costing you more than a subscription to Gamefly. And according to a representative I spoke with there's no discount if you decide to keep the game longer, you have to purchase another pass at full price. That makes Gamefly, with its keep it until your done policy, even more attractive. The only way OnLive can hope to be competitive is by offering a similar flat-rate plan, which they say they will, but no word on when or how much.
The OnLive Game Systems sells for $99 and comes with TV adapter, 1 wireless controller (rechargeable batteries), 1 free game of your choice, Power adapter, Ethernet cable, USB cable, and a HDMI cable. A component cable is available for $29.99. The only requirement is an internet connection based on your TV size:  30″ (3Mbps), 30-40″ (4Mbps), 40″ (5 Mbps). Considering the average ISP speed in the U.S. is 3.8Mbps that could be cutting it close especially since the target audience is more likely to be on the low side of that number so expect some lag.