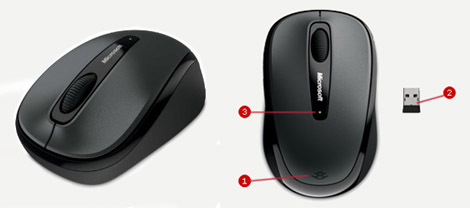 I received the Microsoft Wireless Mobile Mouse 3500 as a Christmas present, which was great since it's something I'd never buy for myself even though I really needed it.
I was still using the mouse that came with my computer even after the glued on glide bumpers came off. That combined with the USB cable dragging on the table made it feel like carry around a ball and chain, at least that's how it felt after I started using the wireless.
It's only 3.75 inches long and the only reason it has any weight to it is a single AA battery (included). BlueTrack technology allows you to use the mouse on virtually any surface, including my grooved wooden table, which it flew across. In fact, it was too fast. You'll need to do a Windows update to get the latest drivers then adjust your mouse settings in the control panel to your liking.
The Nano Transceiver (#2 in picture) is so small that you can leave it plugged into a laptop without worrying about it snapping off. You can even plug it into the front of your desktop and leave your media card reader cover closed.
The battery life is up to 8 months, assuming you turn it off when not in use, but an indicator light (#3 in picture) located below the scroll wheel will warn when the battery is about to die.
The basic Loch Ness Gray model is available for $17.49 or you can get it in Black, Dragon Fruit Pink, Imperial Purple, Poppy Red, or Sea Blue for $24.95 and finally a Special Edition White for $26.44.
UPDATE:
After 3 weeks the battery died. Not bad considering I have my computer on about 14 hours a day AND I forgot to shut the mouse off a couple nights, which equals more than 300 hours of battery-life. The advertised 8 months is apparently based on usage of about an an hour a day. When the battery starts to die (about 5 hours of life left), the indicator light will blink red but it stops blinking when the mouse is inactive to save power.
No matter how often you use it, you'll probably want to get some rechargeable batteries. I suggest the Sony Cycle Energy BCG34HLD4KN Power Charger with 4 Pre-Charged 2000 mAh AA Batteries

(review).