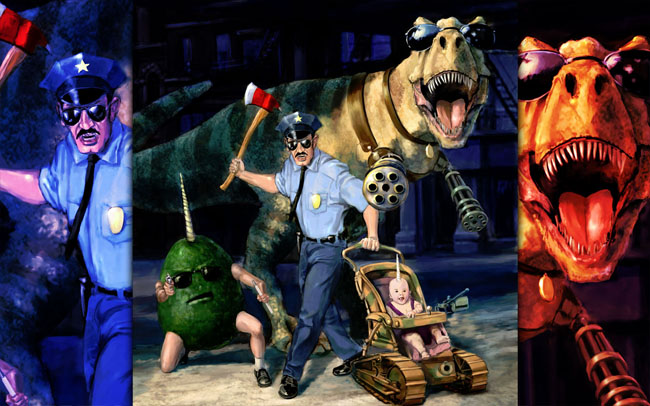 Fox's Animation Domination is expanding to Saturday nights in 2013. The Animation Domination HD programming block will air 11:00 PM-12:30 AM ET/PT and feature four new animated series per season.
"It's something that we've been working on for a while," said Fox president of entertainment Kevin Reilly. "We have real estate on our schedule in Saturday night late night that we've not been programming in quite a few seasons."
Animation Domination HD won't only be competing with Saturday Night Live, it will also have a strong online presence that will extend across platforms such as Web, mobile apps, game consoles and Video on Demand. It kicks off in 2012 and will feature 50 original short-form pieces per year, online windows of FOX animated shows, and user-adapted content. It will create a unique opportunity for fans and up-and-coming talent to engage with professional FOX-curated content, which they could possibly platform into their own series. FOX will also use its expertise and cross-promotional power to nurture these new assets through this pipeline.
"This may be the first time a network is building a clear bridge for talent to develop and grow ideas in the digital/alternative arena and organically move them into the mainstream," said Reilly. "These new late-night series will be assets in their own right – but the clear possibility exists for a breakout digital success to graduate to primetime."

The first season will include Axe Cop, which is based on a webcomic about an axe-wielding cop, whose battle cry is "I will chop your head off!"
If it sounds childish, there's a good reason for that. Axe Cop was created by 5-year-old Malachai Nicolle, and his 29-year-old brother, Ethan Nicolle, who does the art. Malachai has dreamed up an endearing black and white world with simplistically absurd answers to equally preposterous problems. When Axe Cop needs to fight an unknown enemy, he uses dinosaurs because whatever it is "it can't beat dinosaurs." He summons the dinosaurs from dinosaur planet with a dinosaur horn, which he gets from the dinosaur horn store (duh). Having a child author also results in some political incorrectness. Axe Cop refuses to let girls on his team because all girls are dumb (except Best Fairy Ever) and can't fight, which he proves by smacking them upside the head with his axe. Axe Cop doesn't even have time for women in his personal life because he's married to his job, which he explains in a fan mail Q&A segment called "Ask Axe Cop" (video below).
"Axe Cop is one of the most creative, hilarious and naturally viral comic properties to emerge in the last decade," said development head, Nick Weidenfeld. "I've hoped someone would adapt Axe Cop for television for years and couldn't be happier that we get to be that someone. Axe Cop has all the makings of an iconic animated series and it will help set the tone for Fox's new late-prime Saturday animation lineup."