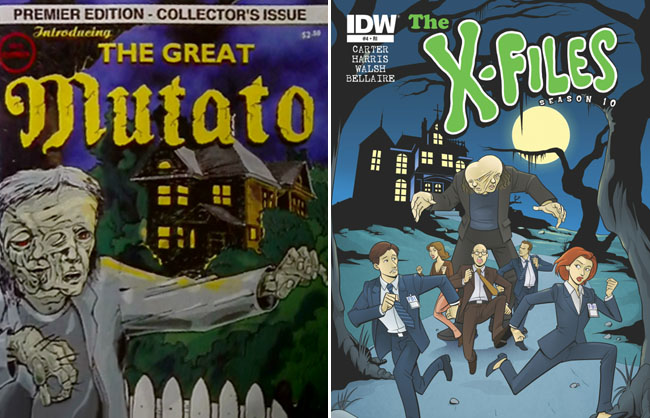 This September "IDW Gets Animated" with classic cartoon variant covers, including a very groovy Scooby Doo parody by the Sharp Brothers. The X-Files: Season 10 #4 features a familiar scene, in which an angry monster chases some meddling FBI agents. Not all the characters are instantly recognizable unless you're hardcore fan of the series so co-creator Rob Sharp solves the mystery and serves up his own personal brand of Scooby Snacks: an original thumbnail sketch and inked line art.
If I'm not mistaken, the monster is "The Great Mutato" from season 5 episode 5 "The Post-Modern Prometheus." Given the Scooby Doo theme, surely it's a man in a mask but who's under there?
Yes that is indeed The Great Mutato – we chose him because his character actually has a comic book background. And surely under the mask would be the creator of the comic book Izzy Berkowitz in a publicity attempt to boost sales no doubt.
Which member of the Scooby Doo gang does each character represent?
The other characters in the image are Monica Reyes (from season 9) and John Doggett (from 8). As far as who is who in the Scooby Universe we were thinking:
Mulder (front left) is Shaggy because of his constant suspicion and "belief"
Scully (front right) is Daphne because of the red hair
Skinner (center) is Scooby a little quick to jump to conclusions
Doggett (back right) is Fred a tad overly stoic
And
Reyes (back left) is Velma
They all don't fit but it was the best we could do.
What inspired you to pick this theme?
The cover came about as we had suggested a "Scooby Doo" inspired retailer incentive for the debut issue of the ongoing Doctor Who. The editors liked the idea however wanted to use the idea as part of the promotion for their new Cartoon Network line of books and shift it to The X-Files as the book would be a little higher profile at the time.
As always for the us, the editor at IDW (particular Denton Tiptop on this one) were a joy to work with giving us an amazing amount of freedom not usually experienced on this type of project.
Investigate about this variant at the nearest creepy old building (i.e.; your local comic book store).