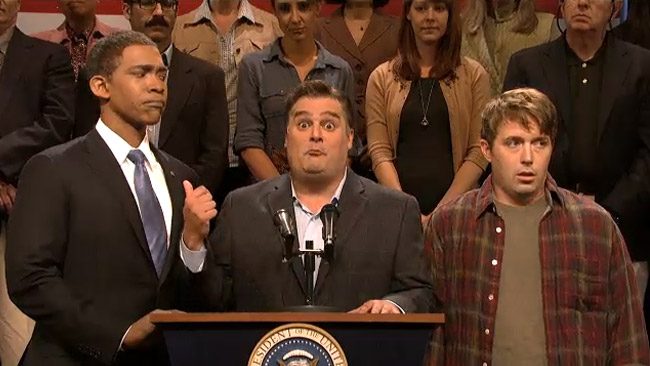 Saturday Night Live frequently makes fun of President Barack Obama but usually it's because he's just too nice for his own good. New head writers Colin Jost and Rob Klein didn't show any of the typical left wing media bias on last night's season premiere.
Obama (Jay Pharoah) demonstrates how Obamacare is helping regular people by letting them speak for themselves with disastrous results. A woman (Aidy Bryant) exclaims that she stopped taking care of herself because she has free healthcare. A father (Bobby Moynihan) complains that his lazy son doesn't have to get job now that he can stay on his parents' plan until he 26-years-old. He's dragged off stage yelling "Chris Christie in 2016!" Breaking Bad's Jesse Pinkman (Aaron Paul) makes an appearance and tells an uncomfortable story about his friend having to sell meth because he didn't healthcare to cover this cancer treatment.
The President admits that many people are still confused about the Obamacare, which is only days away from being fully implemented. To help clarify the law he brings out his mascot Obamacare Oscar (Kenan Thompson), who hurts himself during a song and dance routine. Unfortunately, Obamacare won't help Oscar because he's a Libyan that came here for the welfare.
Regardless of your politics, it's nice to see a different point of view for once.