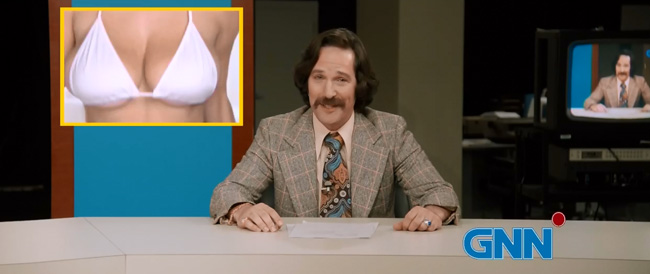 Paramount has released two new trailers for Anchorman 2: The Legend Continues.
Veronica Corningstone (Christina Applegate) has replaced the Channel 4 news team: Brian Fantana (Paul Rudd), Champ Kind (David Koechner), Brick Tamland (Steve Carell) and even the legend himself, Ron Burgundy (Will Ferrell). The boys head east to the 24 hour cable news channel GNN in New York, where they insist on making the news fun.
"While some experts say silicone breast implants are dangerous, I say bring on the fun bags," Fantana declares during a new broadcast featuring footage bouncing breasts in the background.
The story is set 30 years past but the 80s are still too progressive for Burgundy, who is shocked to find black and gay co-workers!