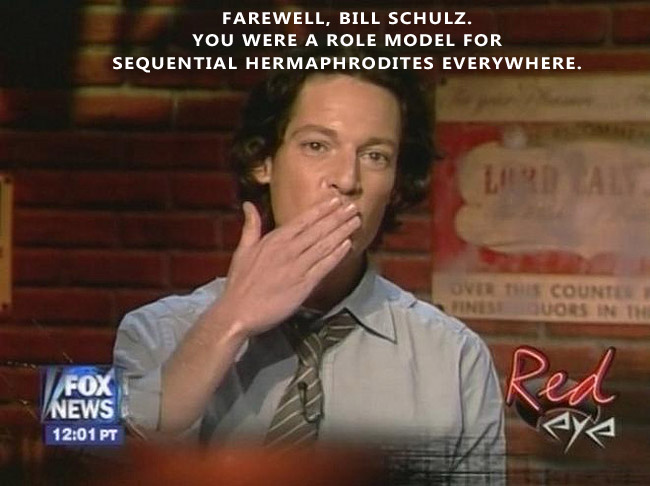 Fox News has been systematically sanitizing Red Eye w/Greg Gutfeld and eliminating many of the more offbeat segments such as Pinch the talking New York Times newspaper, voiced by Gutfeld's "repulsive sidekick" Bill Schulz who was also scrapped this week.
"A lot of viewers have wondered where the heck Bill Schulz went," Gutfeld said on last night's show. "Sad to say he has decided to move on from the show. He's been a close friend of mine for 13 years, and he's been a huge part of Red Eye since its inception, and we wish him the best."
A spokesperson told Mediaite, "Fox News and Bill Schulz have decided to amicably part ways."
"Very amicable, even though I don't know what that word means." Shulz joked on the Race Wars podcast hosted by frequent Red Eye guest Sherrod Small.
Schulz said he couldn't go into specifics about his departure, presumably because he doesn't want to burn any bridges. He's made frequent appearances as a commentator on other Fox News programs including The Real Story with Gretchen Carlson where he coined the term "manle" (man panel). The unemployed writer has updated twitter profile location to "Freelancia" but he's already got his first job offer as a regular on Race War.