Update:
Playboy model Zoi Gorman spoke with L7 World via Skype after the publication of this article and cleared up the blackface controversy regarding her photo shoot as the African queen Ankhesenamun.
Gorman explained that she was painted gold to recreate the fictional character from the Mummy film series but a combination of lighting and contouring of her face made her skin appear darker. There was a drastic difference in the lighting between those photos and the ones in Playboy South Africa that used a ring flash she explained. Under normal lighting she is olive-skinned as demonstrated in her latest appearance in the March issue of Playboy (above). She considers herself Mediterranean not white, and she has a mixed race ancestry that includes Turkish, Greek, Gambian, Irish and Scottish. Finding an actual Egyptian model do a nude photo shoot would be next to impossible considering the country is devoutly Muslim she pointed out.
Gorman revealed that she has personally experienced racism firsthand though she requested that details about her personal life be omitted. She makes every effort to not offend other cultures and refuses to pose nude with any religious objects. The model insisted that a statue of the Buddha be removed from an Indian themed series.
Gorman said she was unaware about the history of blackface, which not common knowledge in Europe as it is in America, but she won't soon put herself in that position again.
"I won't pose as any more Egyptian Gods or queens, that's for sure," she joked.
Original post:
Zoi Gorman was just named Playmate of the month in the February issue of Playboy South Africa but she may have shot herself in the foot by subsequently modeling as the African queen Ankhesenamun for the French modeling website RBB2 (NSFW). The photos are different as day and night. The Greek model was painted with a distinctly darker skin tone that evokes images of blackface, or in this case brownface.
Gorman isn't some naive girl. She's a 28-year-old former civil engineer, who had dreams of becoming an Egyptologist so you'd think she would know better. She defended the photo shoot, which was meant to show Anck-Su-Namun from the movie The Mummy Returns she told L7 World.
"It's gold, copying the film the mummy if your ever seen it. Not that there is anything at all wrong with a black or brown face!" Gorman tweeted.
She didn't clarify whether she meant there was nothing wrong with white people wearing blackface or black faces in general, which seems an awkward thing to say but English is presumably not her first language so she should get the benefit of the doubt.
Rather than respond to emails RBB2 chose to ban the associated IP address from their website; however, they did expound on the motivation behind the shoot in the corresponding blog entry. They insisted that were not trying to recreate the historical figure but rather the fictional representation by portrayed by actress Patricia Velásquez. The difference is that Velásquez is a woman of color, whereas Gorman clearly required significantly more brown than gold paint.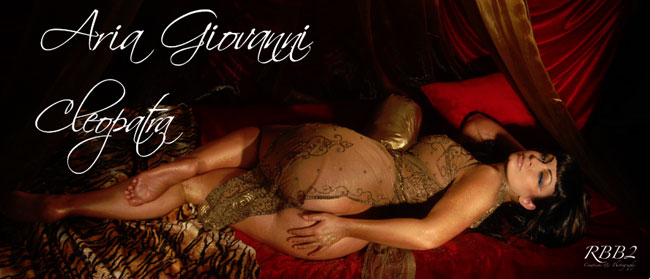 RBB2 has previously acknowledged using makeup for "brown skin" in a similar shoot featuring adult film actress Aria Giovanni as Cleopatra.
"And as Cleopatra Review: had a brown skin, we Asked the Make-Up Artist to make a full Body Make-Up and Then to add a lot of Sparkling Copper Powder to Enhance Aria's amazing body," reads the blog entry (NSFW).
There clearly wasn't any malicious intent but that doesn't mean they aren't still offensive or even racist pictures. As a rule of thumb: if you have to darken the skin of a model, you should probably consider using a darker skinned model instead.