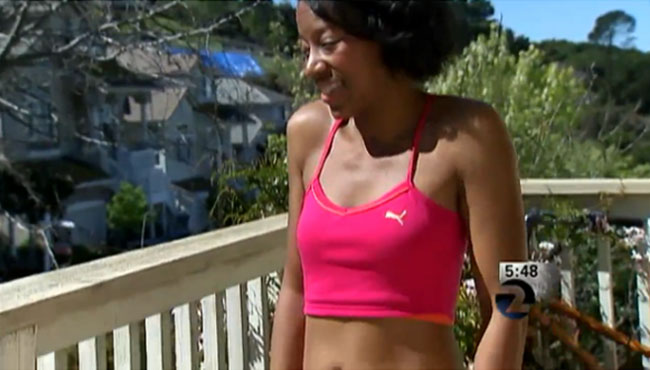 Tiffany Austin wanted to get back into shape after a car accident but she was apparently still too fit for members at a Planet Fitness gym in Richmond, California. Austin wore capri pants and a tank top that showed her stomach. Staff told her to put on a proper shirt because her toned body was intimidating other members. Planet Fitness has a no "gymtimidation" policy that prohibits slamming weights and grunting and well as other narcissistic displays. Their commercials poke fun at these so-called lunks, which include women in skimpy outfits.
"I don't feel like it's anything crazy but you can tell me if it's burning you eyes," she laughed while showing off the outfit for an interview with KTVU. "Really, I felt intimated and harassed by the place that says no intimidation."
A Planet Fitness spokesperson said enforcement of the dress code is left up to staff but there is no policy about being too fit.
"In a lot of ways I think what Planet Fitness is doing is a positive thing," said Derek Van Reheenen, director of the Athletic Studies Center at UC Berkeley. "They obviously need to iron out some of these issues but sport in the U.S. is by nature is discriminatory too, it is selective and it is elite."