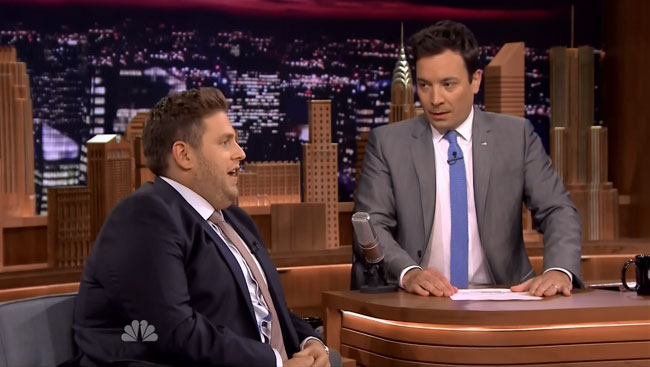 Johna Hill is happy to be the poster boy for thinking before you speak, he told The Howard Stern Show on Tuesday. TMZ caught the actor using a homophobic slur against a paparazzi for another publication over the weekend. The photographer teased him about wearing sexy shorts.
"Suck my dick, you faggot," Hill lashed out.
Hill continued his apology tour during a appearance on The Tonight Show to promote his new movie 22 Jump Street. He told Jimmy Fallon it was the worst word he could think of to hurt the photographer, who had been following him all day and making personal attacks about his family. Hill's been a lifelong supporter of the LBGTQ (Lesbian Bisexual, Gay, Transgender, Queer/Questioning) and says he's heartbroken over letting them down.
"I don't deserve or expect your forgiveness but what I ask is that at home if you're watching this and you're a young person especially, if someone says something that hurts you or angers you, use me of an example of what not to do. And don't respond with hatred or anger because you're just adding more ugliness to the world. And again, I'm just so sorry," he explained while trying not to choke up.
Fallon commended him for addressing the controversy, then lightened the mood with an unintentionally joke.
"It's good that you came out," Fallon said referring to him coming on the the show but the laughing audience took it as a reference to coming out the closet.
Hill continued to tread lightly through the remainder of the interview. He warned fans that his upcoming gig as a grand marshal at NASCAR won't be a roaring success. His plan is to tell everyone to cool their engines and be respectful of each other. Hill demonstrated his technique with an early preview of his version of the starting command.
"Ladies and gentlemen, I'd like you to be respectful to one another while moving in and out of traffic. And to understand that we are all here just to watch you guys to make to the other end. Thanks," he announced over the loud speaker.