Leprechaun is a horror movie that just won't die. The pint-sized monster has been to Las Vegas, space and even the hood (twice) but he's going back to Ireland in Leprechaun: Origins.
The reboot is being produced by WWE studios. Warwick Davis will be replaced as the lead by Dylan Postl better known as a leprechaun named Hornswoggle in his fights. Davis says he wanted to make at least a cameo but he wasn't asked. If it's any consolation, it appears to be a small part. The first trailer doesn't show the leprechaun except for a brief glimpse of a hand reaching out at the end.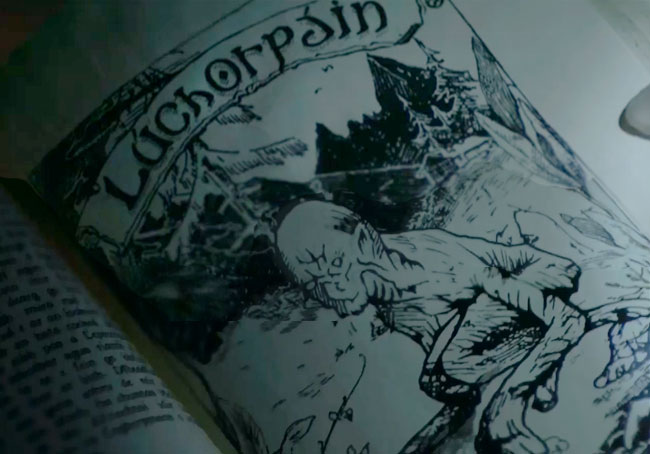 The only leprechaun to be seen is a picture in book about Irish folklore. The luchorpain is the mischievous offspring of a fairy and evil spirit. According to legend, an Irish King caught three leprechauns and was granted three wishes.
A local advises a group of American tourists to see some real history and visit the Stones of the Gods on the outskirts of of town. The two couples stay at cabin in the woods where they are terrorized by unseen creature but he leaves his calling card with an evil laugh.
The tourists are portrayed by Stephanie Bennett (Grave Encounters 2), Andrew Dunbar (Alien Trespass), Melissa Roxburgh (Diary of a Wimpy Kid: Dog Days) and Brendan Fletcher (Freddy vs Jason).
Leprechaun: Origins will be available On Demand August 26 and Blu-ray / DVD September 30.