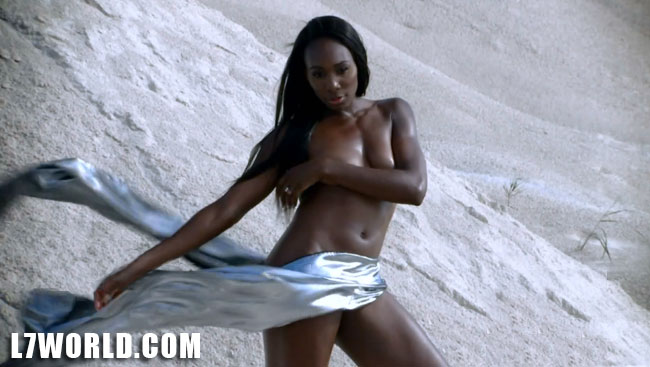 Serena and Venus Williams are amazing to watch on and off the tennis court. The celebrity sisters have posed nude for ESPN The Magazine's The Body Issue, which takes an intimate look at top athletes. Venus follows her younger sister, who graced the cover in 2009.
"It didn't dawn on me until right when I walked on set that I would have to be without clothes," Venus revealed in the accompanying interview. "If I would have thought about it before, there may have been a little less of a chance."
The fashionista usually puts a lot of thought into what she wears. She recently tweeted a picture of colorful undergarments from her clothing line, EleVen. Underneath her Wimbledon whites she'll be sporting floral, tie dye and python patterns.
"My motto personally has always been: Look Good, Play Well," she quoted her company's slogan. "I think there's a connection with what you wear. If you don't feel good about what you're wearing, you aren't going to feel confident and you aren't going to be able to concentrate."
Venus' divine body was tastefully concealed with a sash blowing in the wind evoking images of her goddess namesake. And at 6′ 1" she stands far above mortal women.
"I never really used to care; it just always helped me with my game," she commented on her stature. "Sometimes women who are taller aren't comfortable with it, but I love being tall."
There is a downside to being tall. It limits your fashion choices she explained during a behind-the-scenes video.
"The worst part about being Venus Williams: I'm really tall so you can't get all the jeans," she said. "Your foot is large as well if you're Venus Williams. You cannot get all the shoes."
Despite her athletic body, Venus says staying in shape is a challenge. She suffers from Sjogren's syndrome, an incurable disease that causes increased fatigue. After a hard day of training she would drive home and fall asleep in her driveway. The 7-time Grand Slam winner makes no excuses.
"I don't like being defeated by anything," she said. "It makes me creative, that's for sure. You have to figure out ways to win when you don't feel well. You have to find different avenues in order to get your top health level, and you have to be tough. You can't make any excuses, even though you have one of the biggest excuses available."
Venus isn't worried about being the best she told the interviewer.
"Someone's gonna be greater. Someone already has been greater," she pointed out. "I don't know if you've seen Serena Williams but she's pretty good."
ESPN The Magazine's The Body Issue hits stands July 11.