Wrigley has created a sticky situation with its latest promotion for 5 gum. Each stick of gum comes with truth or dare challenges that encourage you to share them on social media with the hashtag #5TruthOrDare. Most of the challenges are innocuous but some are more ambiguous and therefore open to interpretation that could lead to people putting themselves in extreme situations, particularly in light of a series of sensational commercials. The first has a boy climbing a tree to take a selfie while standing on a tree limb. The second has girl holding her breath underwater in a bathtub filled with ice. When she emerges her friends cheer her on, which is exactly the problem with this campaign. Participants may egg each other on in order to win prizes as the commercials misleadingly imply. Performing the challenges does not actually improve the odds of winning rather it's a means to get free advertising. Both commercials feature a "Do not attempt" disclaimer but it's questionable whether small fine print will stop most people, let alone impressionable youth. The contest is open to children as young as 13-years-old.
Wrigley would not confirm whether the commercials feature actual challenges but the sky-high selfie seems to be genuine as it's specifically listed in the how to play instructions.
"The 5 gum Truth or Dare promotion celebrates a game that has been played for generations, encouraging people to try new, cool experiences," Denise M. Young, Director of Corporate Affairs for North America, told L7 World. "We do not condone or encourage unsafe behavior, and we believe people will play the game responsibly based on the truth and dare suggestions provided."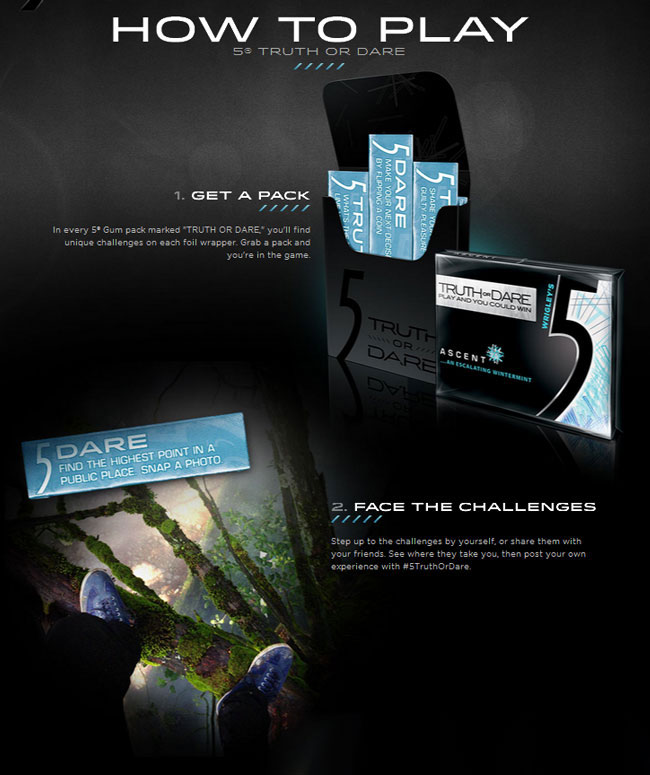 It appears that people aren't heeding the warnings based on photos shared on the website gallery. Content guidelines warn not to "illustrate potentially dangerous behavior" but that seems to already be out the window, literally.
One post shows a man either leaning out a window or the roof of a building several stories high in response to a challenge about facing your biggest fear. Another man asked tell the truth about his best adventure shared a photo of himself perilously sitting on a cliff at the Superstition Mountains in Arizona. A dare to stand somewhere new was taken on a rocky cliff over water. It's possible that if we zoomed out, we'd see none of the subjects were in real danger but these photos will undoubtedly encourage similar stunts just as the commercials did.