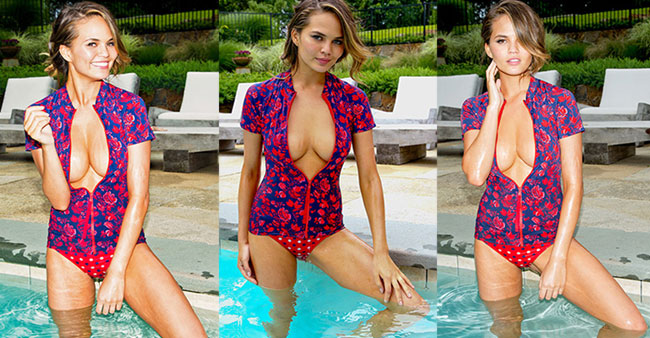 Supermodel Chrissy Teigen might be curvy up top but she has no junk in the trunk according to an interview in the September issue of Esquire. The clearly delusional woman describes her butt as small and concave due to her Thai and Norwegian genes, respectively.
"I didn't know butts were a thing until I was twenty-three," Teigan said. "Then came Jennifer Lopez and people were like, 'That butt is great.' Now you have to have a butt. It sucks for me."
Her backside didn't stop her from landing the cover of 50th anniversary Sports Illustrated Swimsuit issue. However, the swimsuit model says she isn't enthusiastic about the beach.
"Sand is disgusting," she stressed. "I get all Larry David at the beach and want every piece of sand off me."
Teigan didn't have to worry about her eremikophobia during the Esquire photo shoot. The skinny model showed off her other assets in unzipped swimsuit from the safety of a pool. She must have needed to cool down after working up a sweat mowing the lawn with a push mower in high heels.
See the full photo shoot at Esquire.