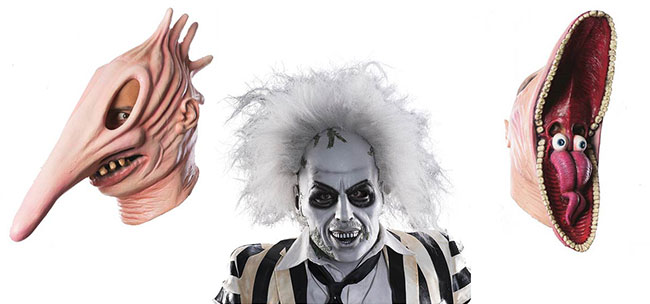 Lots of fanboys will be donning a Beetlejuice mask this Halloween now that a Beetlejuice sequel is in the works but not everyone can be the "ghost with the most." If you're looking for something a little more obscure that won't have you running into your doppelganger, Adam and Barbara Maitland are the perfect choice for fans of this cult classic. The recently deceased couple repeatedly tries to scare away the new owners of their home with little success. The plain looking phantoms stretch out their faces to look more like proper ghosts but they can't go through with it and decide to let the family stay. Barbara was clearly the scarier of the two. Her mask can be be worn by either sex and freak out people even if they don't get the reference. The Adam mask, on the other hand, will have people asking you what you're supposed to be, which might not be a bad thing if you're looking for a conversation starter. To completely his costume make sure to stop by the Halloween store and pick up some fake eyes for your fingers.
Order Beetlejuice Adam Maitland Deluxe Latex Mask from Entertainment Earth!
Order Beetlejuice Barbara Maitland Deluxe Latex Mask from Entertainment Earth!