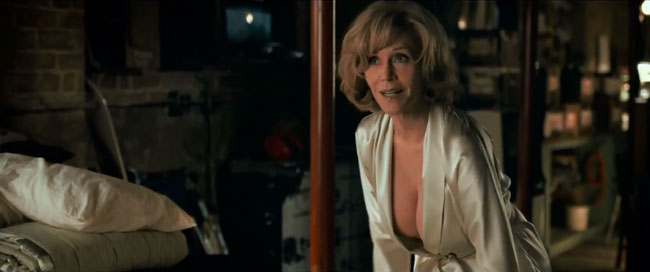 Jane Fonda stopped by Jimmy Kimmel Live to promote her new movie This is Where I Leave You but the real star was her chest. Kimmel showed the much talked about scene in which her character, Hillary Altman, falls out of her robe in front of her son, who accuses her of having bionic breasts. In fact, they were silicone breasts molded on top of her actual breasts. The stunt doubles were light despite their size. Fonda says she regrets not having them bronzed because they fell apart as soon as they came off.
Her movie son wasn't the only one she teased. Fonda said she would flash traffic while walking from her trailer to the set. She re-enacted the understandable double-takes from lucky onlookers.
"When you have tits that big, people treat you differently. They really do. They just pay more attention," she explained.
Kimmel asked Fonda to show off her real body by recreating the back flip scene in On Golden Pond. He even gave her a bikini top and jean shorts for authenticity. She agreed to do the stunt but backed out despite her insistence that they shouldn't waste water during the ongoing California drought. When the show return from commercial the host showed the pool and an on-call ambulance leaving as it was no longer needed. Kimmel joked that she had to be rushed to Cedars-Sinai hospital. Who would have guessed Hanoi Jane would betray us like this.