Over 100 celebrities have had their nude photos and sex tapes hacked through the Apple iCloud service. The incident is reminiscent of Sex Tape starring Cameron Diaz and Jason Segel as a married couple who accidentally upload their sex tape to the cloud. Neither knows how to get it down from the cloud but the woman is clearly more concerned about other people seeing it.
"Nobody cares about the guy. It's the woman who has to live with it forever." the wife explains.
Late night comedians address nude celebrity photos
Women are also apparently the sole victims in the leak, at least according to Girls star Lena Dunham, who was not part of the leak.
"The way in which you share your body must be a CHOICE. Support these women and do not look at these pictures," Dunham tweeted. "Remember, when you look at these pictures you are violating these women again and again. It's not okay."
Nude photos of Detroit Tigers pitcher Justin Verlander were, in fact, leaked along with his girlfriend supermodel Kate Upton, who incidentally looks good even when dealing with a breakout on her forehead. Verlander told reporters in the clubhouse he's focused entirely on winning a pennant then proved it by beating the Cleveland Indians 4-2.
"I'm not going to comment on my personal life," Verlander said. "I never have, and I never plan on it. I keep my personal life personal. The focus for me is on the Detroit Tigers. I don't want to take any focus away from this team and what we're trying to accomplish. We're in the middle of a pennant race. We're trying to win a pennant. And all of my focus currently is on doing whatever I can to help our team win our division."
Upton previously stated she has no interest in doing nude modeling for magazines like Playboy. She explained in Details that she appreciates nude models but doesn't think her photos would be appreciated in the same way.
"This is obviously an outrageous violation of our client Kate Upton's privacy," her attorney stated. "We intend to pursue anyone disseminating or duplicating these illegally obtained images to the fullest extent possible."
Huger Games star Jennifer Lawrence had several topless photos leaked mixed in with some money shots that are apparently just very convincing fakes.
"This is a flagrant violation of privacy," a spokesperson said. "The authorities have been contacted and will prosecute anyone who posts the stolen photos of Jennifer Lawrence."
Videos of Upton and Lawrence show the naked women shaking their butt and breasts respectively but they are tame compared to others. Downton Abbey actress Jessica Brown Findlay's sex tape features the actress burying her face in the crotch of an unidentified man. She begs to smell his "bum hole" claiming it will be funny because he laughed after smelling hers. In the end, she doesn't get her "treat" as she is literally cock blocked.
"I always lick your balls," she complains while still doing it.
The video has been viewed online over 1 million times in part due to Goggle linking to it on the first page of results for the actress.
"Searches for 'Jessica Brown Findlay' no longer deliver the video on the front page, which should limit its exposure," a spokesperson said in response.
Mary Elizabeth Winstead (Scott Pilgrim vs. the World) attempted to shame people into not looking at her topless photos.
"To those of you looking at photos I took with my husband years ago in the privacy of our home, hope you feel great about yourselves," Winstead tweeted. "Knowing those photos were deleted long ago, I can only imagine the creepy effort that went into this. Feeling for everyone who got hacked."
Olympic gymnast McKayla Maroney was best known for a picture showing her smirking at an award ceremony but now it a series of nude selfies that she's not impressed about. Maroney said she wouldn't give "fake photos" creator "the time of day" but her legal representation gets paid to make time. Reddit removed the photos after her lawyer claimed that she was underage at the time the photos were taken. The website has also advised users not to post previously released underage photos of Liz Lee (My Life as Liz) that have made a resurgence due to the leak.
Spider-Man actress Kirsten Dunst had some tingling topless photos hit the web.
"Thank you iCloud," she tweeted followed by emoji for pizza and shit (translation: piece of shit).
Her few words possibly due to having already done nude scenes in movies like Melancholia.
Actress Victoria Justice (Zoey 101, Fun Size) vehemently denied the valadity of her photos by pointing a single Photoshopped picture.
"These so called nudes of me are FAKE people. Let me nip this in the bud right now. *pun intended*" she tweeted.
She eventually owned up to some of the photos after identifying marks and clothes were explicitly pointed out.
"Shortly after I tweeted about certain pics of me being fake, I was faced with a serious violation of privacy," Justice explained. "There have always been fake photos of me on the internet, but I will not be put in the position to defend myself as to what is real or what is fake. I am angry at this massive invasion of privacy, and like the other women who are in this situation alongside of me, I am taking legal action to protect my rights."
Parks and Recreation actress Aubrey Plaza also took some naked selfies. Plaza hasn't commented on the photos but presumably she was jealous of the very sexy and very naked Kathy Griffin whom she assisted with the ALS Ice Bucket Challenge on Jimmy Kimmel Live.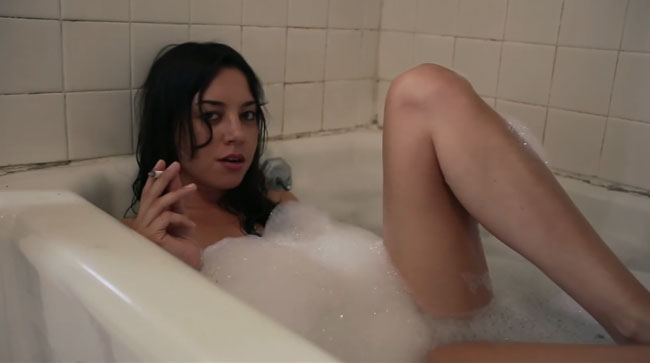 The photos were originally shared anonymously on the imageboard known as 4chan. The website automatically deletes older posts but they were later reposted on Reddit and given their own subreddit called The Fappening, a portmanteau of fap (masturbate) and happening. They were then uploaded in a torrent, which currently has a quarter of million active seeders and leechers, that's not even counting all the people who have completed the download and disconnected. There is so much demand for celebrity porn that Reddit user even created a website exclusively for these photos. (thefappen.in) It has 5 different mirrors but it's still overloaded by traffic.
It's believed that a brute force program was used to guess the celebrities passwords through the Find My iPhone app, which reportedly allowed an unlimited amount incorrect attempts. Apple has since patched that vulnerability but denies any responsibility.
"We have discovered that certain celebrity accounts were compromised by a very targeted attack on user names, passwords and security questions, a practice that has become all too common on the Internet," the press release reveals. "None of the cases we have investigated has resulted from any breach in any of Apple's systems including iCloud® or Find my iPhone. We are continuing to work with law enforcement to help identify the criminals involved."
Apple says users can avoid these types of attacks by picking a strong password and enabling two-step verification as detailed on the company's support page.
Reddits users have identified the original leaker as Bryan Hamade, a coding specialist for Southern Digital Media. He used the screen name BluntMastermind to trade the photos on 4chan for the digital currency bitcoin. Hamade insists he's innocent and that he was only trying to cash in on the leaks.
Another user by the name of "Original Guy" claims to be the ringleader of a group working for months to acquire the photos. The possibility of a trade ring for nude celebrity photos was previously suggested on Reddit. One user dubbed the group the illuminaughty.
GQ: Kim Kardashian nude photo shoot and new sex tape!?
Celebrities hacked:
AJ Michalka
Alyson 'Aly' Michalka
Abigail Spencer
Alana Blanchard
Alexa Jane, model
Alison Brie and Dave Franco
Angelina McCoy
Anna O'Neill
Ashley Blankenship
Aubrey Plaza
Abigail 'Abby' Elliott
AnnaLynne McCord
Avril Lavigne
Amber Heard
Rebecca 'Becca' Tobin
Brie Larson
Brittany Booker
Candace Smith
Candice Swanepoel
Cara Delevingne
Carley Pope
Carmella Carcia
Carrie Michalka
Cat Deeley
Carly Foulkes
Chloe Dykstra
Clare Bowen
Dove Cameron
Elena Satine
Elle Evans
Ellenore Scott
Emily Browning
Emily DiDonato
Emily Ratajkowski
Erin Cummings
Erin Heatherton
Farrah Abraham
Gabrielle Union
Gabi Grecko
Hayden Panettiere
Hope Solo
Heather Marks
Hilary Duff
Jacqueline Dunford
Janelle Ginestra
Jennifer Lawrence
Jessica Dunford
Jessica Riccardi
Jessiqa Pace
Jesse Golden
JoJo
Joanna Krupa
Jennifer 'Jenny' McCarthy
Josie Loren
Joy Corrigan
Kaley Cuoco
Kaime O'Teter
Kate Upton
Kate Bosworth
Kelly Brook
Lauren 'Keke' Palmer
Kim West
Kirsten Dunst
Krysten Ritter
Lake Bell
Laura Ramsey
Lea Michele
Leelee Sobieski
Leven Rambin
Lisa Kelly
Lisalla Montenegro
Lindsay Clubine
Lizzy Caplan
Mary-Kate Olsen
Mary Elizabeth Winstead
McKayla Maroney
Melissa Benoistr
Meagan Good
Megan Boone
Michelle Keegan
Mikayla Pierce
Misty Treanor
Nina Stavris
Rachel Nichols
Rihanna
Sarah Shahi
Sahara Ray
Sarah Schneider
Scarlett Johansson
Selena Gomez
Shannon McNally
Tameka Jacobs
Teresa Palmer
Uldouz
Vanessa Hudgens
Victoria Justice
Wailana Geisen
Winona Ryder
Yvonne Strahovski
Snapchat hack includes underage nude photos and videos