The girl next door finds to her edge says a piece on Reese Witherspoon in Vogue magazine. The actress says she's been typecast. One director refused to consider her for a role because she was too "Southern and sweet and huge."
"It's not that the roles dried up," she explained. "They just weren't as dynamic or as interesting as anything I felt I could do."
Witherspoon plays an uncharacteristic bad girl in the upcoming movie Wild based on the memoir of Cheryl Strayed, who went on a thousand mile walkabout after losing herself in a torrent of drugs and sex. The article suggests she choose the the role specifically because the character is the polar opposite of Witherspoon, who is so together. That and to prove the studios wrong about her.
"I just didn't want to hear, 'Oh, we don't want to see Reese have sex. . . . Oh, can we not have any profanity?'" says Witherspoon. "I wanted it to be truthful, I wanted it to be raw, I wanted it to be real."
Director Jean-Marc Vallée says Witherspoon had doubts about appearing "almost naked" and questioned if she was doing the right thing to the very last moment.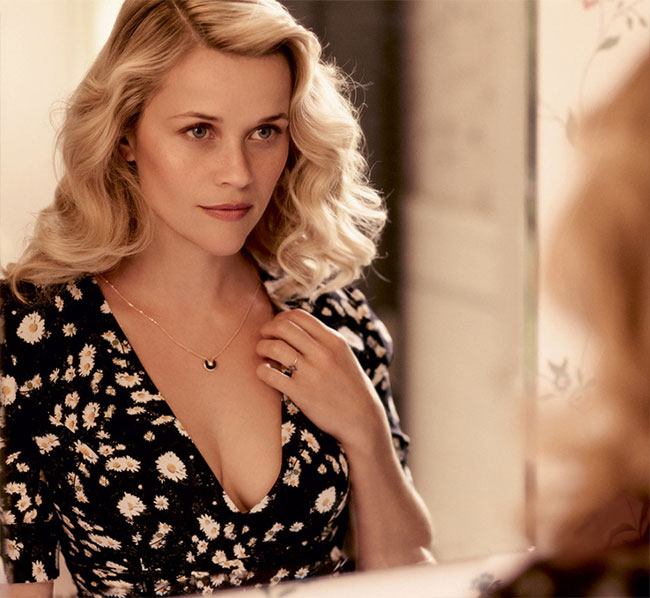 This isn't a one-off thing for Witherspoon, who stars opposite Joaquin Phoenix in Inherent Vice.
"She's out in search of some hippie love thrills, basically," Director Paul Thomas Anderson describes her character. "Buttoned up during the day, out watusi-ing at night."
In real life, Witherspoon is still America's sweetheart. She's a loving mom who enjoys eating chicken fingers with her children she shared in Vogue "73 Questions" series. There were two notable exceptions. She admitted to reading the erotic novel Fifty Shades of Grey and hinted that she might have tattoo.
Wild release date: December 5.
Inherent Vice: December 12.