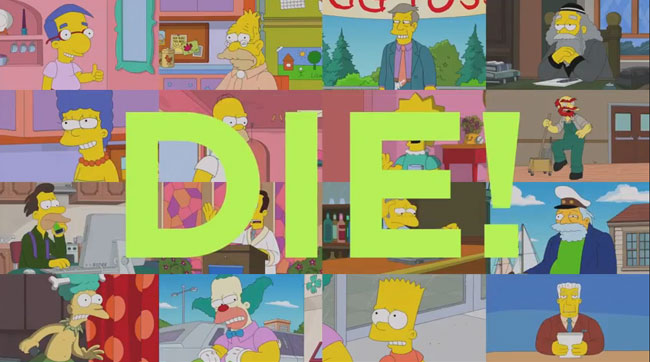 Someone will reportedly die in the Simpsons season premiere "Clown in the Dumps." Krusty the Clown (Dan Castellaneta) retires after being roasted be real-life comedians David Hyde Pierce, Jeff Ross and Sarah Silverman. He informs the mini clowns hiding in his pants to cancel the bit. Once revealed they are unable to return to Hammerspace so Krusty has a noticeable bulge in his pant unless his mood is improving. Krusty may be depressed but committing suicide seems a little dark for the show. It's more likely his father Rabbi Hyman Krustofski (Castellaneta) dies. The rabbi is featured in a list of candidates during the promo along with other expendable characters like Captain McCallister (Hank Azaria) Sideshow Mel (Castellaneta). But the deceased appears to be Jewish because the funeral shows several men wearing kippah including Comic Book Guy (Azaria) with a Superman Kippah.
"Worst funeral I have ever live tweeted," he types.
The very unlikely possibility that Homer dies is also hinted at in the promo. Lisa (Yeardley Smith) becomes very concerned about her father, who lives an unhealthy lifestyle. Homer (Castellaneta) assures her that he's got years left but he revises his estimate lower and lower as Dr. Hibbert (Harry Shearer) coughs to signal him.
"You should worry about that guy. He's got the cough," Homer tells his daughter.
Of course, they could throw us curve ball or rather a Snowball. The unlucky cat is currently on his fifth incarnation, Snowball V. It might seem strange to hold a funeral for a cat but don't underestimate Lisa's activist nature. It might also explain the disappointment of Comic Book Guy.
The Simpsons season 26 premieres 8 PM Sunday on Fox.