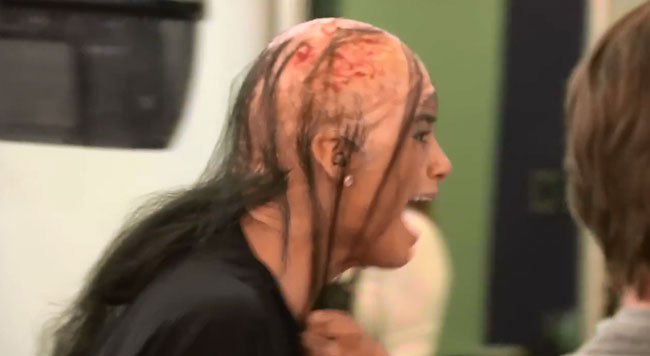 ABC Family makes your nightmares reality its new series Freak Out. The prank show is the network's first unscripted series since President Tom Ascheim was hired.
"I'm glad to get reality back on our schedule and to continue to grow our original programming," Ascheim told The Hollywood Reporter. "Scary can be funny, and this series is sure to deliver the 'sclaughing' — the screaming and the laughing. We're also excited to be working with 495 Productions, a company with a proven track record for delivering hugely entertaining reality series."
The 14 episode long series will premiere with one of two one-hour specials airing during the network's annual "13 Nights of Halloween."
In a sneak peek from the first episode, Katrina gets back at her mischievous sister Chelsie during a trip to the hair salon. An actress complains about her hair tingling then burning. Chelsie panics when her sister runs out completely bald! Other highlights include a stalker at a dinner party, a shocked guest a pool party and a woman with a stomach full of cockroaches.
The second episode will guest star Jonathan Sadowski (Young & Hungry) in a supernatural prank about a telekinetic waiter getting fired. Later a baby claws its way out a pregnant woman and a little girl visits a sick patient, who is possessed.
Freak Out premieres Tuesday 9PM, October 21 on ABC Family.