Harley Quinn is best known for being the Joker's sidekick but before she went batty for the criminally insane villain, she worked as a psychiatrist at Arkham. Dr. Harleen Frances Quinzel doesn't take kindly to Doctor Fate's liberal use of the title and dubs him Mister Fate in Injustice: Gods Among Us: Year Three #5
.
Harley asks him to help her save the life of Detective Chimp, who was gravely injured in an attack by the Spectre AKA the Spirit of Vengeance. Doctor Fate claims it's beyond his power despite having just saved Black Canary in defiance of Nabu, the magical entity that empowers his helmet. John Constantine recruits Klarion the Witch Boy to cure him with death magic.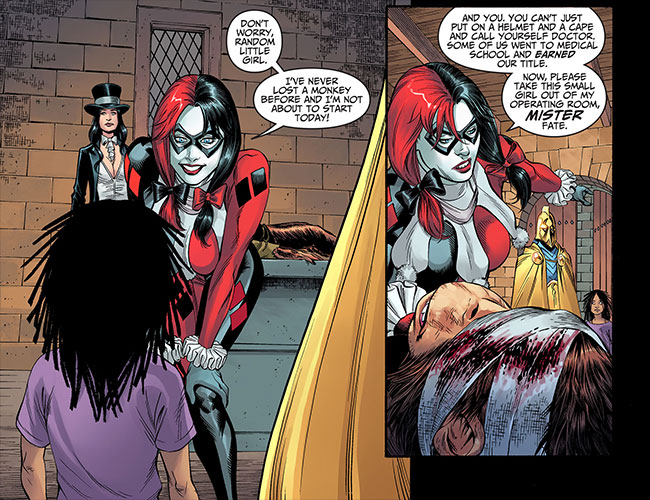 It's a good thing Fate isn't a real doctor because his bedside manner stinks. He glibly diagnoses Detective Chimp as a goner in front of Contantine's daughter, Rose.
The precocious child lightens the grim mood by pulling a coin from behind her father's ear. Fate reveals it's not a trick. He explains that Rose either willed it into existence or transported it to the Tower of Fate, an impregnable fortress beyond space and time. Constantine insists she's just a little girl but the implication seems to be that she will play an pivotal role in stopping Superman from taking over the world.