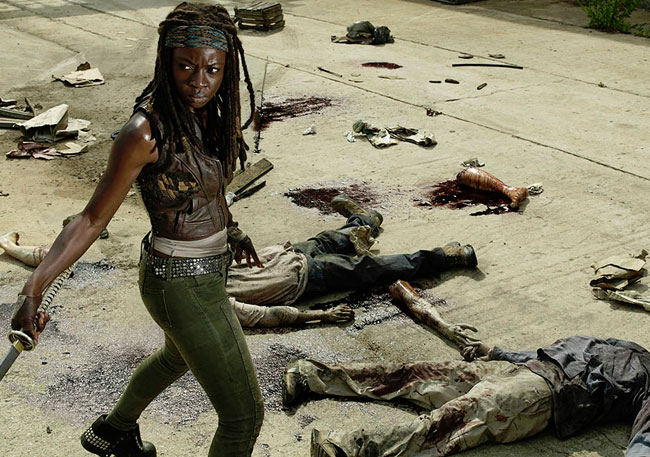 The Walking Dead will live on for at least one more season. AMC made the announcement ahead of the season 5 premiere, signaling their confidence their show. The zombie series is fresher than ever according to the ListenFirst Digital Audience Rating. In the lead up to the season premiere, interest is at an all-time high on social media including Twitter, Facebook and video views. Showrunner Scott M. Gimple and executive producers Robert Kirkman, Gale Anne Hurd, David Alpert, Greg Nicotero and Tom Luse will return for The Walking Dead season 6.
"We could not be more excited for October 12th as we share new episodes of The Walking Dead with fans around the globe," said AMC President Charlie Collier. "In advance of Sunday's season five premiere, AMC proudly confirms a sixth season order of this extraordinary series. Thank you to Robert Kirkman, Scott Gimple, the terrific executive producers, and the entire team who brings this compelling world and these rich characters to life. There's plenty more Dead ahead thanks to their impressive, collective effort."
AMC is also working on the pilot for a spin-off, presumably the reason why there are no webisodes this year. It's officially known as companion series since it will feature no current characters but that doesn't exclude future characters like the foul mouthed villain Negan recently villain introduced in the comic book. He ruled not only his group but all the surrounding groups including Rick's until they rebelled. While seeing his rise to power would great, it seems unlikely and not just because of all the profanity.
The Walking Dead companion series seems to heading across the pond. The renewal press release emphasizes the series popularity overseas. It could be that they want to capitalize on that audience. Collier said the companion series would feature "other parts of the world" which suggests another country. Presumably, they won't switch things up too much and keep it in an English speaking country given our aversion to subtitles and dubs.
"There are many corners of The Walking Dead universe that remain unseen in the shadows. Being given the opportunity to shine a light into those corners and see what lurks out there is an absolute thrill. I know the fans are anxious to hear what Dave and I have been cooking up for this new version of The Walking Dead, and I'm happy to be one step closer to sharing it with them," said Kirkman.
The companion series pilot is scheduled for production in late 2014.
The Walking Dead season 5 premieres Sunday 9PM, October 12 on AMC.