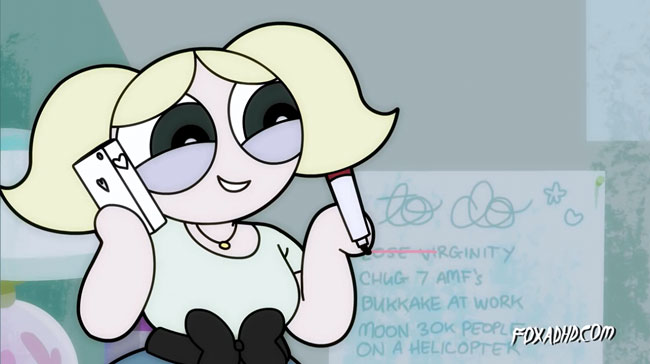 A Powerpuff Girls reboot will air in 2016 on Cartoon Network but Animation Domination High-Def has re-imagined these delicate flowers as the characters on HBO's Girls. Professor Utonium creates the twenty-somethings by mixing together sugar, spice and everything nice, then accidentally spilling in narcissism instead Chemical X.
Blossom goes from being the smart one to the fat one, who is clearly a parody of actress Lena Dunha's character Hannah Horvath. Bubbles goes from cute to slutty. She crosses off "loose virginity" on her to do list. And Buttercup loses interest in fighting monsters altogether.
"HBO's Powerpuff Girls!" cheers the narrator. "Very little fighting. Lots of complaining combined with small, witty, life-affirming lessons… oh and flying. They still fly."
Ironically, the Powerpuff Girls did actually grow up in the flashback episode "The City of Clipsville." They recall when time sped up and girls became teenagers. Their raging hormones had them fawning over teenage versions of their arch-nemeses the Rowdyruff Boys while monsters destroyed the city.