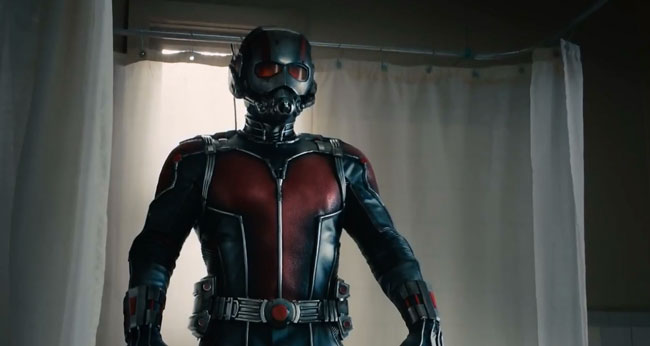 Ant-Man has retired reveals the first teaser for the movie. An aged Dr. Hank Pym (Michael Douglas) recruits incarcerated thief Scott Lang (Paul Rudd) to take up the mantle. Lang isn't thrilled about his superhero name but dons the costume for the sake of his daughter.
Rudd has a roguish, bad boy vibe reminiscent of Chris Pratt as Star-Lord in Guardians of the Galaxy. But he'll need more than washboard abs and dance moves to save the day.
Lang is trained to fight by Hope Van Dyne (Evangeline Lilly), daughter of the original Ant-Man and Wasp AKA Janet Van Dyne. He goes up against an evil Ant-Man. Darren Cross (Corey Stoll) is Pym's protege and uses the technology to become the supervillain Yellowjacket.
The Ant-Man suit has been updated for a less campy design. The red and blue color scheme has been reversed for a darker look and the antennae have been removed. The Yellowjacket costume has yet to be revealed but Stoll described it as a more "badass" version that can do everything Ant-Man can do and more.
Ant-Man release date: July 17, 2015.