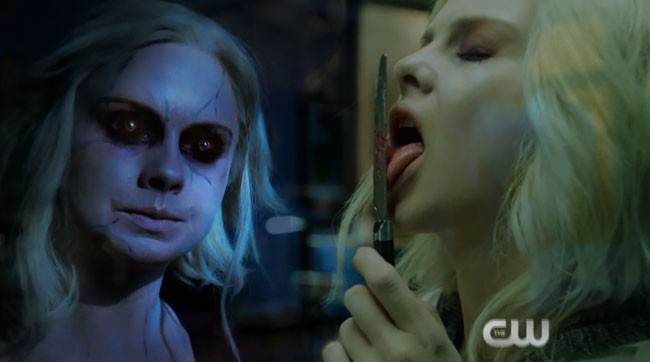 The zombie genre gets cerebral in the CW's new series iZombie
, a police procedural loosely based on Michael Allred's monster-themed comic book.
Rose McIver stars as Olivia "Liv" Moore, a medical assistant who uses her position at a morgue to gain access to a buffet of brains that keeps her from decomposing into a typical zombie. She temporarily absorbs the deceased's memories and skills, which she uses to help solve their murder. Liv also endeavors to find her own murderer, fellow zombie Blaine DeBeers (David Anders). Her only confidant is Dr. Ravi Chakrabarti (Rahul Kohli), who passes her off as a psychic to Detective Clive Babinaux (Malcolm Goodwin). Liv pushes away her family including her financé, Major Lilywhite (Robert Buckley).
"It's the most heartbreaking part," McIver told TV Guide. "Liv's so scared of infecting him with zombie-ism."
Liv has no shortage of suitors despite her appearance, which Producer Rob Thomas (Veronica Mars) describes as "zombie chic." The sexy zombie finds herself in the middle of a love triangle.
"The center of the show is a zombie you can fall in love with," Thomas explains. "A zombie you want to date. We were calling the show ZILFs. It helped me a lot that Warm Bodies had made it out in the universe and there was an example of a zombie you fall in love with. It gave us the confidence to say a zombie can be a hero of our show."
iZombie trailer: Rose McIver gets zombie intervention
iZombie premieres Tuesday 9PM, March 17 on CW.