Sharknado 3 will be the biggest yet in the franchise. Sharknadoes merge to form a sharkicane that affects the entire "feast coast." The storm starts in Washington and reaches all the way down to Universal Orlando.
"We're shooting in Universal Orlando as Universal Orlando," director Anthony C. Ferrante explained in a Behind the Sharks promo. "But I don't think there's an instance of a monster movie where they actually use the theme park as the theme park."
It promises to be a wild ride, literally! A shark gets blown onto the tracks of a roller coaster and attacks the car. The sharks will also get into other attractions like Twister…Ride it Out and the Jaws ride.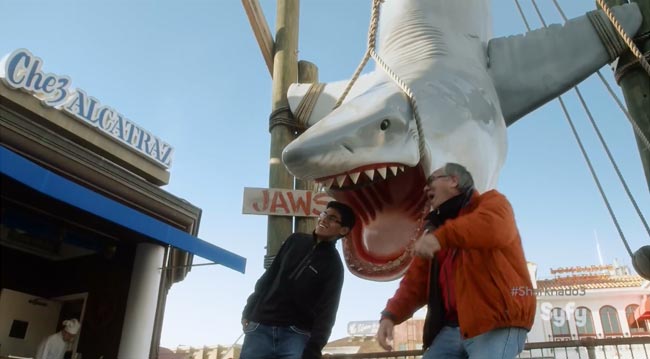 Syfy calls Sharknado a FOMO-nomenon. The Fear Of Missing Out (FOMO) was evident when an encore showing outperformed the premiere of Sharknado following its trending on Twitter. Sharknado 2 garnered over one billion hits on Twitter. That's more than Miley Cyrus during the MTV VMAs or Kim and Kanye's wedding day.
"There's such a huge fanbase," touted Ian Ziering, who plays the shark slayer named Fin. "The demographics keep expanding, getting older and younger because everyone doesn't want to miss out on the moment."
Sharknado 3 premieres July 22, Wednesday 9PM on Syfy.
Sharknado 3: Oh Hell No! trailer