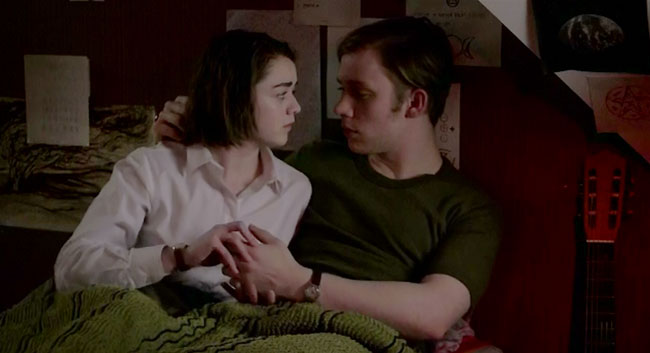 Game of Thrones starlet Maisie Williams becomes a woman in her latest movie The Falling
. Her first sex scene was "extremely awkward" she revealed to Vulture. Williams says she fought for the role in order differentiate herself from the medieval tomboy whom she is known for playing on the HBO series.
"The reason I wanted to play Lydia in the first place was that she's such a different character than Arya," she explained. "When I look at scripts, I always worry that the director isn't going to see past me playing Arya Stark or that sort of character."
Williams was 16-years-old at the time of filming. She appears fully clothed in the sex scene with her Joe Cole, who portrays her brother! Their brief incestuous encounter is interrupted when their equally mental mother walks in on them. The most erotic scenes are when she's literally falling asleep. Lydia is the instigator of a rash of psychosomatic fainting spells at an all girls school. The girls act as though they're possessed. They fall to the floor and roll around in act clearly meant to represent orgasm.
The 18-year-old actress officially became an adult in April but don't expect to see more skin from her now that she's legal. Williams says she's actively avoiding stereotypical roles for women in hopes that industry will stop writing them.
"There are a lot of roles that come in that are 'the girlfriend' or 'the hot piece' in a movie or TV series,' she told Evening Standard. "That's something I've seen first-hand and read all the time. It will say 'Derek: intelligent, good with kids, funny, really good at this' and then it will say 'Sandra: hot in a sort of cute way' — and that's all you get. That's the way your character is described, so going into an audition you are channelling 'hot', which isn't like a person, that's not who a person is. That's what I see and that's what needs to change. I've been lucky enough to play a very great female character from a young age, who is a fantastic role model for girls."