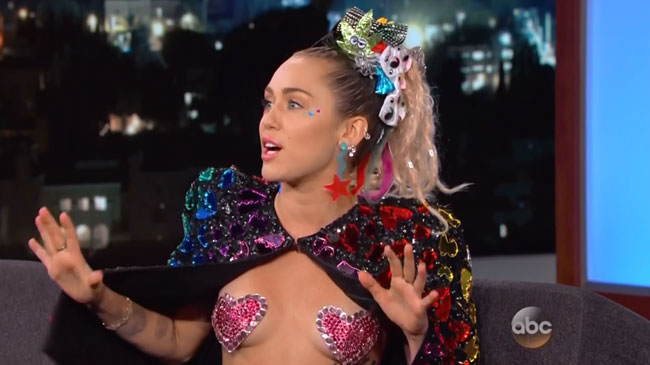 MTV VMA host Miley Cyrus gave Jimmy Kimmel a sneak preview of her outfit or the lack of it. Cyrus teased a nude performance and said she would wear a pasty on her crotch for the award show. Her network television appearance was relatively reserved in comparison. She wore glittery heart-shaped pasties on her breasts hidden under nothing but a sequin shawl. Kimmel implored her to keep her arms at her sides to no avail.
Miley debated the rationale behind the censorship of women's breasts. She noted that the only difference is they have more jiggle than men, which she demonstrated for the audience. And yet she can show off everything but the nipple.
"America's actually fine with tits," Miley explained. "It's nipples they don't like."
Miley pointed out the hypocrisy of allowing men to show their nipples.
Shake yoooo tots 4 @jimmykimmel! Watch @JimmyKimmelLive tonight at 11:35pm on ABC #kimmel #vmas pic.twitter.com/REbmdWlKVE

— Miley Ray Cyrus (@MileyCyrus) August 27, 2015
The star said seeing old people at a nude beach gave her second thoughts about her own openness with nudity. Miley joked she would continue to show her body into old age as payback.
Author Ali Wentworth followed Miley and showed up the star. The supposedly 50-year-old woman flashed her own pasties, which looked had the audience begging for an encore that was received. Wenworth said that she was in a car accident just before the show, possibly explaining her wardrobe choice.
"About to do @JimmyKimmelLive and I have no outfit! #HotMess," she teased on twitter.
Miley and Wentworth are now officially bosom buddies. Wentworth revealed they did a naked chest bump backstage.
"I cannot wait until George Stephanopoulos sees this tomorrow morning on GMA," she said about husband.