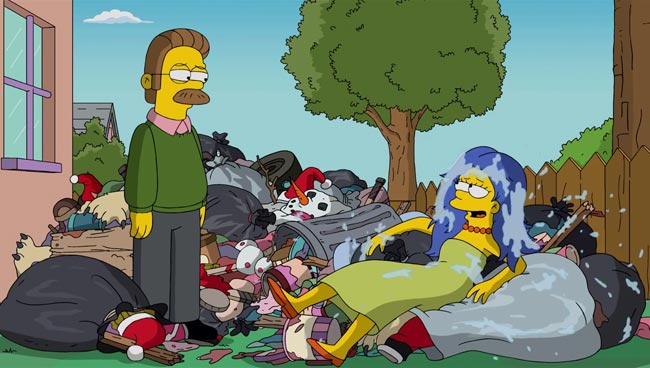 North Korean dictator Kim Jong Un begrudgingly accepted an ALS Ice Bucket Challenge from Marge Simpson, who wisely wore dark colors but it didn't help much. Maggie pours a single ice-cube on her mother but Bart and Lisa literally hose her down. Marge is flung into Ned Flander's backyard, which is littered with trash from Homer. Marge and Ned exchange awkward looks made more awkward by the fact that the clumpy, slow-moving liquid dripping down her hair does not look like water. That may sound like the wishful thinking of a perverted mind but it wouldn't be the most risque thing the cartoon MILF has done. Marge posed in Playboy for the Simpsons 20th anniversary. That was for the slightly less noble cause of preserving historic gazebos.
Homer Simpson took the ALS Ice Bucket Challenge last year but shockingly Lou Gehrig's disease still hasn't been cured explained Marge.
"People pouring ice on their heads somehow did not eradicate that terrible disease," Marge jeered.
Of course, to help find a cure you'll have to do more than watch a video of people making fools of themselves. The challenge is only meant to raise awareness so people donate to charities like ALS Association.
Simpsons season 27 premieres September 27, Sunday on Fox.