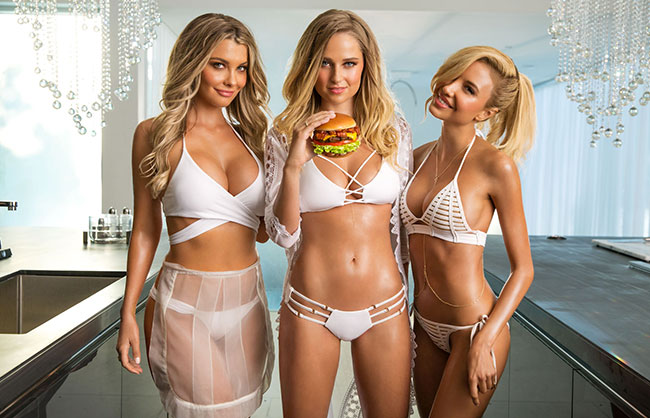 Carl's Jr. & Hardee's new Bacon 3-Way Burger features a spokesmodel threesome: Australian model Emily Sears, Swedish model Elena Belle and South African model Genevieve Morton, who showed off her buns in Sports Illustrated Swimsuit issue 2015.
"I'm so excited to be a part of such an iconic campaign," Genevieve told SI. "I've always wanted to work with director Chris Applebaum; his direction along with the entire team made me feel sexy with every bite I took of those burgers."
The TV commercial features the women sensually feeding each other bacon strips, bacon crumbles and bacon jam while "Threesome" by Dirt Nasty sets the mood. The suggestive song cuts out at the mention of a threesome but Sears continues the innuendo.
"It called a bacon three-way burger. What'd you expect?" she says breaking the fourth wall.
Finger Lickin' Good
There's no such subtlety in the director's cut available exclusively online. The food orgy is accompanied by the uncensored lyrics that chant "ménage à trois," which is not French for burger. Belle drips the bacon jam on her breasts and licks it off, though it's hardly her most provocative shoot. Belle posed topless as Miss July in Playboy Croatia, which still features nudity unlike the U.S. version of the magazine.
The Carl's Jr. commercials have helped launch and bolster the careers of Paris Hilton, Hannah Ferguson, Sara Underwood, Emily Ratajkowski, Charlotte McKinney, Ronda Rousey and Kate Upton. Add three more starlets to that menu for success.
Who needs scantily-clad women to make sexual innuendo. A separate commercial features only the burger but includes a mock parental advisory. It warns that the bacon on bacon action may be considered "offensive" and "not suitable for work." The pornographic theme is punctuated with the announcer's declaration that the burger is for "hardcore" bacon fans.
"There's no question that bacon has become one of the most popular and beloved food items in America, not only found on menus everywhere in its traditional strip form, but it's showing up in new ways all the time," said Brad Haley, chief marketing officer for Carl's Jr. and Hardee's. "At Carl's Jr. and Hardee's, we pride ourselves on our ability to bring things to fast food consumers that they previously could only get at sit-down restaurants for a lot more money, which led us to the Bacon 3-Way Burger. Sure, the Bacon 3-Way Burger has plenty of bacon in the form of thick-cut, Applewood-smoked bacon strips and crumbled bacon, but the real star is the bacon jam, which is starting to show up on fine-dining and casual-dining menus across the country. It's a little sweet, a little savory and a lot bacon-y, so what's not to love?"