Olympic swimmer Ryan Lochte needs to take a walk of shame like Cersei on Game of Thrones instead of going hiding just like the remorseless villainess. The sequestered swimmer tweeted a half-hearted apology for lying about being robbed in Rio while celebrating his teammates: James Feigen, Gunnar Bentz and Jack Conger.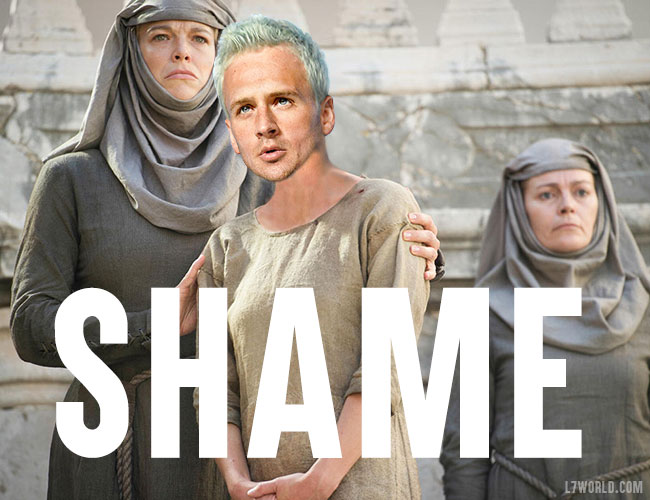 "I want to apologize for my behavior last weekend — for not being more careful and candid in how I described the events of that early morning and for my role in taking the focus away from the many athletes fulfilling their dreams of participating in the Olympics," read the statement.
Lochte still isn't being candid. There was no admission that the so-called robber was a security guard or that the stolen money, approximately $50 dollars, was compensation for the vandalism of a gas station. Lochte and his drunken cohorts kicked in a bathroom door and yet urinated everywhere but the toilet.
The defamatory accusation played on fears of crime, which in rampant in the county. Brazil has the most violent cities in the world but Rio is not one them.
The United States Olympic Committee (USOC) issued its own apology acknowledging the athletes shameful conduct.
"The behavior of these athletes is not acceptable, nor does it represent the values of Team USA or the conduct of the vast majority of its members," USOC CEO Scott Blackmun. "We will further review the matter, and any potential consequences for the athletes, when we return to the United States. On behalf of the United States Olympic Committee, we apologize to our hosts in Rio and the people of Brazil for this distracting ordeal in the midst of what should rightly be a celebration of excellence."
Ryan Lochte goes from swimming to running
Police eventually released Bentz and Conger without charges but Lochte and Feigen were indicted for filing a false police report. The maximum penalty is six months imprisonment. Feigen avoided jail time by making an $11 thousand donation to Reaction Institute, a gym founded by Olympic medalist Flavio Canton to teach poor youth judo. Lochte fled the country before he could be detained; however, he won't be deported given the relatively minor offense. He likely won't participate in the games again though that was already unlikely for the 32-years-old, who earned only a single gold medal in a relay event. The real cost is a potential loss of $1 million in sponsorships including a Speedo contract that expires this year.
[UPDATE]
Lochte has been 'robbed' again. This time by his sponsors.
"Seepdo USA today announces the decision to end its sponsorship of Ryan Lochte," read a statement on Twitter. "As part of this decision, Speedo USA will donate a $50,000 portion of Lochte's fee to Save The Children, a global charity partner of Speedo USA's parent company, for children in Brazil. While we have enjoyed a winning relationship with Ryan for over a decade and he has been an important member of the Speedo team, we cannot condone behavior that is counter to the values this brand has long stood for. We appreciate his many achievements and hope he moves forward and learns from this experience."
Lochte was also dropped by Ralph Lauren, Gentle Laser Hair Removal and Airweave, a Japanese mattress company.