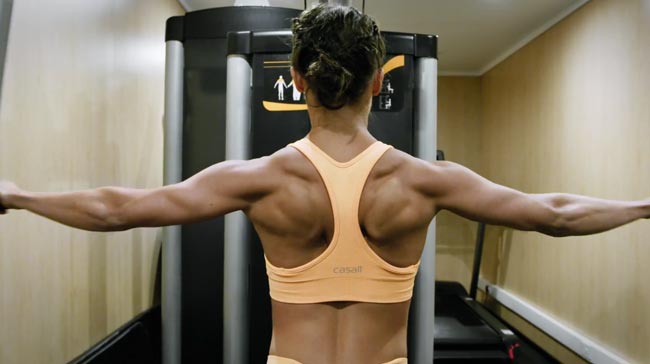 Alicia Vikander portrays the latest incarnation of Lara Croft complete with her iconic handguns wielded by Angelina Jolie in the first Tomb Raider movie. But the real gun show happens in a behind-the-scenes video that reveals how the actress bulked up for the role.
"I wanted her to be a strong physical girl," she explained. "So I started to gain muscle and gain strength."
Co-star and foil Walton Goggins says she made him embarrassed to take his shirt off. The video game heroine leveled up with an intense exercise routine of seated reverse fly, plank rotation with dumbbell, stability ball pike, ring rows and ring pull-ups. Director Roar Uthaug wanted the star to be able to do her own stunts, which included swimming, diving and wire work.
"I always wanted to try all these physical action beats and I feel like I have the strength to do it," she said brimming with pride.
Vikander says she did her best to "suck up" the physical punishment but she was inundated by cold waters. Uthaug was eager to recreate the shipwreck scene from the game. He was probably a little overzealous after this last film, The Wave.
"Just like in The Wave, we have a lot of water sequences," she told Entertainment Weekly. "I spent my last two days of shooting in a tank and that was my 16th total day being fully drenched or submerged in the water. For one action scene, we used the London venue for Olympic rafting. They threw me down that river–with my hands tied–about 50 times. I didn't need to act, just react!"
Tomb Raider reboot
The film is an origin story based of the video game reboot in 2013. Lara discovers her late father (Dominic West) was leading a secret life as an archeologist and sets out to uncover the truth of what happened to him. Captain Lu Ren (Daniel Wu) reluctantly leads her first expedition to a mysterious island in the Devil's Sea, or Dragon's Triangle, the Bermuda Triangle of the Pacific Ocean. Lara receives a weapon upgrade in keeping with her environment. She relies heavily on a climbing axe as well as a bow and arrow featured in the game.
Uthaug says he didn't want the film to be too dark. Comic relief is provided by Nick Frost and Kristin Scott Thomas as a couple running a pawn shop. The film also stars Hannah John-Kamen and Antonio Aakeel as Lara's friends.
Tomb Raider release date: March 16, 2018