The Venture Bros. isn't the only thing back from the dead. The teaser trailer features an out-of-control exorcism performed by the Order of the Triad, a team of supernatural heroes including Dr. Orpheus, Jefferson Twilight and The Alchemist.
The Venture exhibit is filled with robots ripe for possession. Dr. Orpheus warns them to clear their minds or the demon will use their thoughts and desires against them. Sure enough, Al is preoccupied with a particularly retro robot that lights up! The cigarette smoking robot is a homage to the famous Elektro, which debuted at the World's Fair in 1939.
The scene conjures up memories of the Ghostbusters accidentally summoning the Stay Puft Marshmallow Man. Dean's hormone-addled mind will undoubtedly be thinking of Orpheus's daughter, Triana, and fan service will ensue. And god help us if Sergeant Hatred's foot fetish manifests.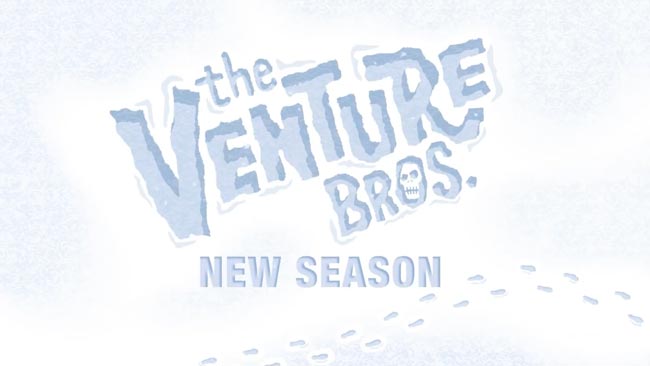 Venture Bros. mystery afoot
The new season premieres this summer and yet the teaser features a wintry themed title sequence. The cartoon series is a parody of Jonny Quest and often pokes fun at other shows. It could be a reference to the Game of Thrones catchphrase "winter is coming." Someone seems to be coming judging by the single set of tracks in the snow. Do they mark the entrance of a new character or perhaps the return of someone . . . say, Jonas Venture Sr., Dr. Venture's presumed dead father.
Reviving the family patriarch would be in keeping with the theme of the teaser, which is filled with both literal and figurative ghosts of the past. It's not difficult to imagine that Rusty may subconsciously think about his larger-than-life father while surrounded by his inventions. As the founder of Team Venture, an evil Jonas suffering from demonic possession might be their most formidable foe yet.
The Venture Bros. season 7 premieres on Adult Swim: Sunday Midnight, August 5.