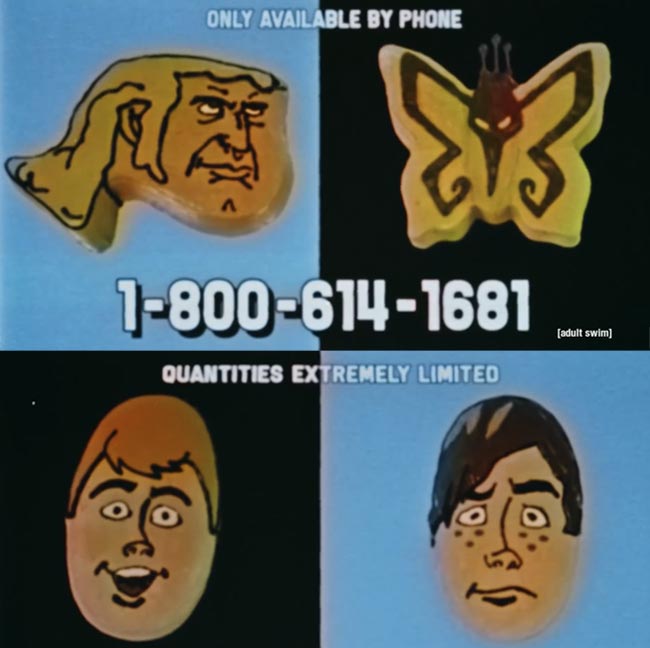 Adult Swim's latest contest really takes the cake. The television network is giving away Venture Bros. themed Carvel Cakes featuring Brock, The Monarch, Hank and Dean. The nostalgic cartoon makes for the perfect topping for the cakes sold by the nearly century old ice cream shop.
Brock is actually made from a repurposed Fudgie the Whale mold. The iconic whale was introduced in 1977. The mold has since been used for leprechaun and Santa cakes but they are displayed vertically with the tail end as a hat. However, Brock's strong jaw and mullet fit perfectly with a whale profile. After all, he's a whale of a bodyguard!
Venture capitalist
The promo recreates the mom-and-pop feel of a classic Carvel commercial complete with a voiceover by an sweet old man stammering. Founder Tom Carvel famously did his own voiceover work completely unrehearsed.
"The professionals ridicule my commercials, but who cares?" he responded to critics. "You can have a six-foot tall handsome announcer with a perfect voice, perfect diction, perfect grammar. But very few ice-cream buyers look like that. Our commercials are for the people who look like us, talk like us, and sound like us."
Revenge, like ice cream, is a dish best served cold. Carvel sold his $200 startup for $80 million in 1989.
Enter to win one of these cakes by calling 1-800-614-1681 by September 23, 2018. A recording by the Monarch will ask you to leave a message with your name, email and an impression of a Venture Bros. character eating the cake. The contest is open to legal U.S. residents who are at least 18 years old.
Thank you.