The Goldbergs Halloween episode "Mister Knifey-Hands" guest stars Robert Englund as Freddy Krueger or Fredward Kroger as Beverly (Wendi McLendon-Covey) calls him. Her son, Adam (Sean Giambrone), is petrified to fall asleep after a Nightmare on Elm Street movie marathon with his girlfriend, Jackie (Rowan Blanchard). It doesn't help that his mother is basically a female Freddy Krueger. She's always clawing her way into her children's lives. And she literally shares wardrobe with Freddy. Beverly's closet is possessed by Freddy sweaters and she even dons a striped sweater herself.
Englund has officially hung up his gloves. He initially declined offers to make a cameo on the sitcom believing it would only work on a show such as American Horror Story. But he relented for the sake of the fans particularly series creator Adam F. Goldberg, who wrote him a heartfelt letter.
"This [movie] was the first place I go to when I think of my childhood and Halloween," Goldberg said in interview with Entertainment Weekly. "[I told Robert Englund] when I saw this movie — Part 3 [Dream Warriors] — I went home and I threw up all night. I didn't sleep all week. It was so real to me, and my mom was freaking out and was trying everything — baths, the whole thing. That was a traumatic experience for me. So every year I say to the writers, 'Let's take the shot and try and get Robert to be Freddy.'"
Goldberg says getting to write for Freddy was a "bucket-list moment."
"Watching Robert spend four hours getting back into makeup and bringing our script to life was a true dream and by far a highlight of the show for our cast and crew," he said in a statement. "The story in this episode is actually true — after I saw Elm Street 3, I didn't sleep for a week and my mom was beside herself and desperate to fix the problem."
Wet dream
Beverly smothers her son in an attempt to cure his insomnia. She cites a dubious study at Yale that has shown "Science has proven that mommas can love away the fear." He relents to mom science and takes a not-so soothing bath that pays homage to infamous bathtub scene with Nancy portrayed by Heather Langenkamp and Rooney Mara in the remake. Giambrone unleashes his inner scream queen when Freddy's glove emerges between his legs.
The script originally called for Freddy to go after Adam but Beverly was made his victim because she is experiencing a mother's worst nightmare. Jackie's parents, Lynn (Jackie Geary) and Vinny (Scott Adsit), effortless do what she can't. They make Adam face his fears by giving him the horror magazine Fangoria. His nightmares stop after he gets a behind-the-scenes look at the movie magic. Beverly flies into a jealous rage and embarrasses Adam, who wishes that Lynn and Vinny were his parents.
In an effort to reconnect with her son, she watches Nightmare on Elm Street. Beverly falls asleep during the movie and finds herself in a starring role. She's only momentarily frightened and even that is mostly due to her sweaters being replaced by Freddy's sweaters. The tables quickly turn when she becomes determined to mend her relationship with her son. She steals the show by out cursing the foul-mouthed monster.
"Beverly's great," Englund told New York Post. "It's Freddy versus the yenta. [laughs] She has that way of talking. [Englund slips into a judgmental, dismissive tone] "Mister Melty-Face … Mister Knifey-Hands." It was fun working with Wendi because she's just so gifted and quick. She's one of the funniest gals on network TV."
Dad jokes
Beverly pours her heart out to Freddy but not in the manner he's accustomed. He's unsympathetic to her parenting concerns.
"Parents, who needs 'em?" he laughs. "I never knew any of my fathers and I turned out just fine."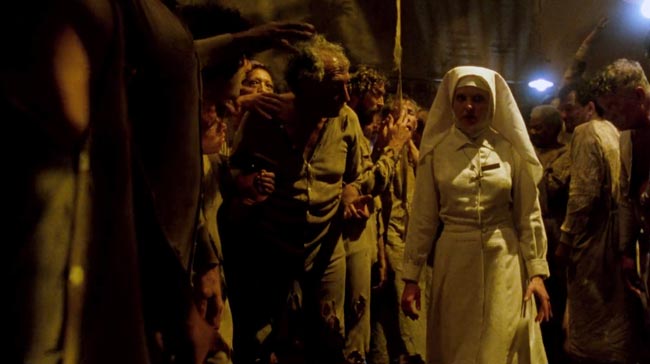 This is a particularly risqué joke if your know Freddy's origin story, which was revealed in Nightmare on Elm Street 3: Dream Warriors. Sister Mary Helena (Nan Martin) calls him "The bastard son of a hundred maniacs." She explains that he was conceived when a nun was gang raped while accidentally locked inside an insane asylum over the Christmas holiday. It's later revealed that Sister Mary is actually Amanda Krueger, Freddy's mother.
The moments leading up to the sexual assault are shown during a flashback in Nightmare on Elm Street 5: The Dream Child. Freddy haunts Alice (Lisa Wilcox) in an attempt to possess her unborn child. Alice dreams she is Amanda (Beatrice Boepple) on that fateful night. One of the maniacs is portrayed by Englund sans make-up. This seems to suggest this particular inmate is Freddy's father. However, the same inmate reappears in Alice's bed when she wakes up in yet another dream. Presumably, Freddy was casting himself as one of the his mother's rapists. As Freddy would put it: he's a real motherfucker.
That is some seriously dark humor for a prime time family sitcom.
Never sleep again?
Freddy is never truly gone. It's possible we'll get deleted scenes of Englund's performance. He reportedly improvised during the closet scene, in which Beverly easily breaks free of the sweaters grabbing her.
"Robert talked to the sweaters," executive producer Lew Schneider told EW. "[It didn't make the cut] because she breaks free, and he says, 'What the hell is wrong with you guys?' And they [shrug]. And he says, 'That's what you're giving me? [A shrug?] You know how many people would kill for this job?!' My things was promising [to Robert], it's not going to be too jokey! And then the sweaters are like [shrugs]. I didn't know!"