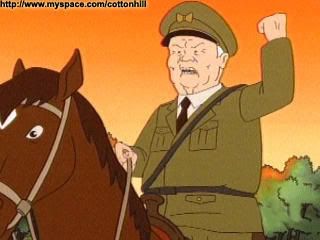 Contrary Senator John McCain's appeals to 'agree that the Vietnam War is over', the recent attacks by partisan veteran advocacy groups have demonstrated the need for a recognized arbitrator. While the Veterans of Foreign Wars (VFW) declined any official comment, Lame News was able to get this exclusive interview with war hero Cotton Hill (pictured left) of the Arlen, Texas VFW.
Mark Putnam: Thanks for coming Mr. Hill, please tell us a little about your service if you could.
Mr. Hill: Fought in da 'Big One'. Pacific. Lost ma shins to samerai tojo, they shot me fi'ty times in the back and left me fer dead, then they started spitting on the U.S. flag! So I stuck two rifles in ma bloody stumps and hobbled over there like a cyborg, scared the tojo so much they surrendered.
Mark: So you took them all prisoner?
Mr Hill: NAH. Jumped on ma butt and mowed 'em all down wit ma rifle-legs.
Mark: Do you have any regrets about that?
Mr. Hill: Sure. Wish I hadn't landed on hill of red fire ants.
Mark: Well Mr. Hill you've certainly seen more than your share of war. What are your views on the current Vietnam controversy?
Mr. Hill: Those dang hippies still crying?
Mark: Um, no sir, I meant the political attacks on President Bush's lack of service in the National Guard and Senator Kerry's short-lived service.
Mr. Hill: Well if it was the Guard he did'n miss much and as fer the other guy if ya gets killed in service, least yer using up VC's ammo.
Mark: Oh, he wasn't killed, he was discharged after getting three purple hearts.
Mr. Hill: Got Dang! How many legs he lose?
Mark: He wasn't disabled, but he still has shrapnel in his left buttock.
Mr. Hill: Got a Heart for being shot in da dang butt? Well I guess ya can't choose where's ya get shot. So three purple hearts, he must have some kind fancy mantel fer those beauts.
Mark: [Decided not to tell him that Kerry threw his medals away]
As a veteran Mr. Hill, which candidate do you think is more qualified?
Mr. Hill: So dems ma choices, a coward or a baby. Well as a war hero, which I am, I'd choose dat McCain, he's a mean son-a-bitch, but he's got some class like me. Now if you'll excuses me I got to go to the wax museum again and give the finger to FDR.