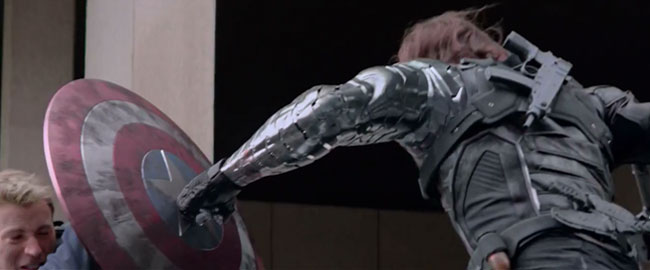 Marvel followed up its Super Bowl teaser with a super-sized trailer for Captain America: The Winter Soldier.
The Black Widow (Scarlett Johansson) explains that the Winter Solider (Sebastian Stan) is a legendary operative for the Russians. He's a ghost who can't be found but Captain America (Chris Evans) won't give up because the Winter Soldier is actually his brainwashed former sidekick James "Bucky" Barnes. Cap is also indoctrinated by S.H.I.E.L.D. agent Alexander Pierce (Robert Redford).
"Captain, to build a better world sometimes means tearing the old one down and that makes enemies," Pierce tells him.
The all-American hero shows goes bad boy by donning a leather jacket and declaring, "Everything goes."
Just because Cap and Bucky are mortal enemies now, doesn't mean they can't still be friends. When the super soldier throws his shield, Winter Soldier throw it back as if they were playing frisbee! In other words, they're equally matched.
Captain America: The Winter Soldier premieres April 4, 2014