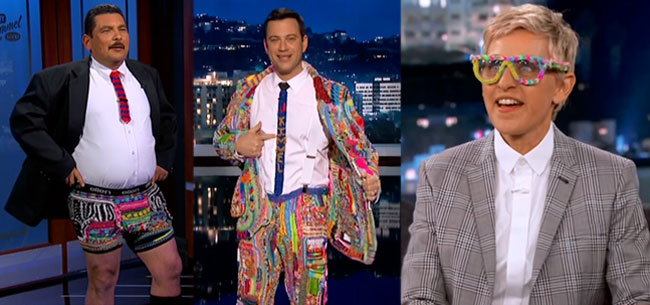 Kids are crazy for the brightly colored rubber band bracelets known as Rainbow Looms but Jimmy Kimmel managed to convince the children (read: parents) to part with some of their DIY jewelery so that his wardrobe department could make him a "Suit of the Loom." Kimmel thanked his staff for the arduous work.
"If it makes you guys feel any better, please know that right now each and every one of my body hairs is caught in a rubber band," he joked.
They received over 3,000 Rainbow Looms and had enough left over to make boxers for his sidekick Guillermo, ties for the band and glasses for guest Ellen Degeneres.
Along with the looms Kimmel received a video invitation to meet "Super Max" Wilford, a seven-year-old fighting brain cancer. The Arroyo Elementary School in Tustin, California is also collecting looms for a Loom-a-thon to create the longest loom in the world in order to raise money for the cancer center at Children's Hospital of Orange County (CHOC) as well as celebrate the birthday of Super Max.
Kimmel threw the boy an early birthday party featuring his favorite superhero Iron Man, who presented him with tickets to Disneyland. The teary eyed late night host then gave Super Max his very own superhero cape made of looms.
The Suit of the Loom will be auctioned off at ebay.com/SuitOfTheLoom for the Max Love Project, a nonprofit organization helping families with children battling life-threatening conditions including cancer. There's only one suit but you can receive other apparel by donating to the MaxLoveProject.org.