Unlike The Simpsons couch gags which are updated every week, the Family Guy opening rarely changes (see bottom) but this week is a special occasion. Cleveland Brown (Mike Henry) returns in "He's Bla-ack!" The character move away with the debut of The Cleveland Show, which has been cancelled. Cleveland makes an appearance Family Guy opening musical number and takes Mort's spot (not that anyone cares).
The long hiatus has given his friends several years worth of material about the failed show. The best of which is a bit of self-deprecating humor from Glenn Quagmire voiced by Seth MacFarlane, creator of both shows. Quagmire points out that MacFarlane quit voicing the Tim the Bear after just two seasons.
"It's hard to make a talking bear funny," Cleveland insists.
"It worked out okay in movie form," Quagmire laughs in reference to the Ted movie.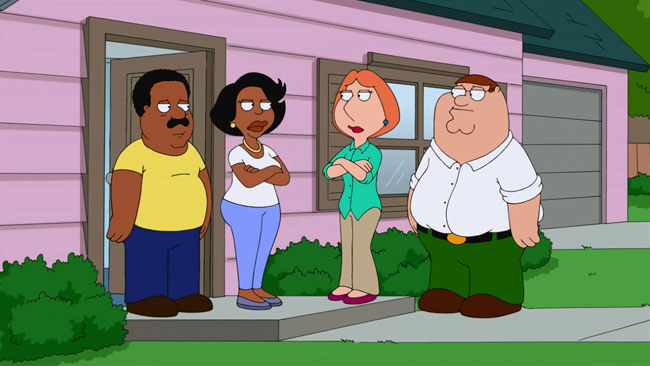 The reunion is cut short when the Lois (Alex Borstein) and Donna (Sanaa Lathan) have a fight over disciplining Stewie (MacFarlane). They forbid their husbands from seeing each other. Peter and Cleveland give each other a heartbroken look, which is immediately interrupted by the cranky baby.
"Hey, Lois. Look, I'm smoking. You can't control dick. I'm a roof baby now," Stewie yells from atop their house.
Family Guy airs Sunday 8:30 p.m on Fox.
The Family Guy opening musical number has been previously modified to have Peter trip and fall down the stairs in "Whistle While Your Wife Works" and replaced Brian with Vinny in "Into Harmony's Way."
There have also been completely unique openings like the King of the Hill opening in "Bigfat" and the Valentine's opening in "Valentine's Day in Quahog."