The Boondocks brings Stinkmeaner back from the dead in "Stinkmeaner: Begun the Clone War Has." Robert Freeman (John Witherspoon) mistakenly believed Stinkmeaner was a blind samurai after he landed a lucky hit with his cane. Robert fought back and accidentally killed him but it's revealed he was cloned days before the fight.
The original Stinkmeaner leaves his clone a message to mess with Robert. Stinkmeaner accepts and recaps the so-called "nigger moment" introduced in the character's debut episode "Granddad's Fight." It's a phenomenon in which two people fight over inconsequential matters. The best part is that it never ends he explains.
The new and improved Stinkmeaner attempts to goad Robert in fighting him again. The stress gives him nightmares. Robert dreams that he is Luke Skywalker training with Yoda in Star Wars Episode V: The Empire Strikes Back.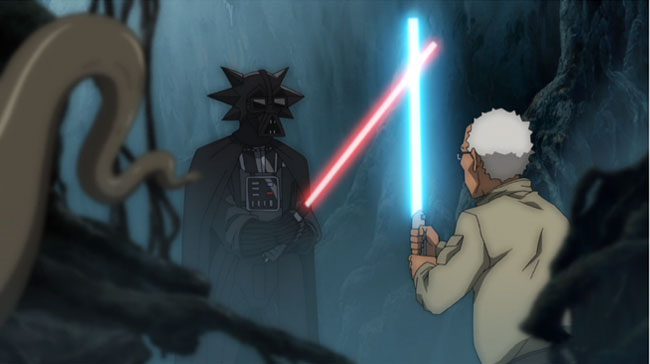 Yada warns him about a foreboding cave. Robert asks what's inside.
"Only what you take with you," Yoda answers.
Robert encounters a Darth Vader Stinkmeaner, who is decapitated in a lightsaber battle. The mask explodes revealing Robert's face underneath. The talking head explicitly states "I'm you."
Robert gives in to his dark side and agrees to publicly fight Stinkmeaner. His hate makes him strong but it also make him a jerk just like Stinkmeaner. He even begins to look like him. Ultimately, Robert turns the other cheek. He spares his enemy in a fight to the death, which results in Stinkmeaner harassing him indefinitely.
The Boondocks airs Monday 10:30 p.m. on Adult Swim / Cartoon Network.