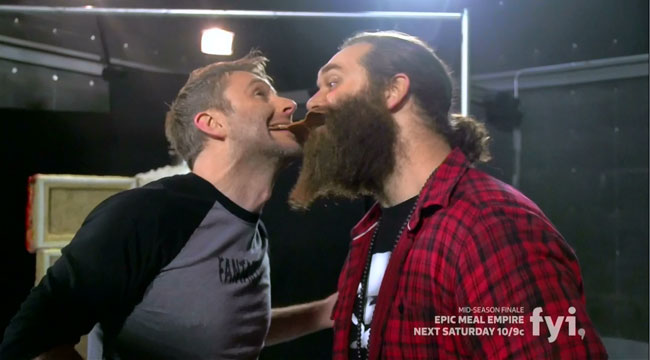 Epic Meal Empire host Harley Morenstein wanted a big celebrity guest on this week's episode "Fat Midnight" but Sir Elton John was busy so they got Chris Hardwick, host of the internet-themed game show @midnight. Harley sat down down with Hardwick to pick his brain about what to prepare for him and his staff.
"What does the internet taste like," Hardwick pondered. "I guess it would just be the ultimate mash-up of like sweet, savory, salty, sour like everything."
Back at the Epic Meal Empire headquarters, they brainstormed internet memes and came up with a separate idea to amuse themselves. Josh "EpicMook" Elkin volunteered to become a Mentos man and be dunked in tank filled with diet cola.
"Now we have to make this meal for Chris Hardwick and that is very important," Harley explained. "However, exploding Josh is way more important to me."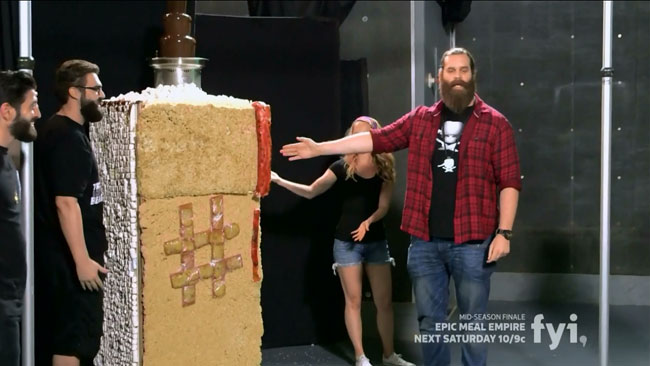 Fortunately Josh survived and they got back on task building an edible refrigerator dubbed Fat Midnight (a.k.a. Fridge Hardwick), which was adorned with a hashtag made out hash browns. It was stuffed with meme-themed food like a chocolate rain fountain, hotdog shaming, pizza cats and Nyan Cat cookies made from Pop-Tarts and rainbow sour belts. But no spam. Clearly this was a fantasy meal.
"Now we will serve the most outdated internet joke of all: an Epic Meal" Harley introduced the fridge. "We started on the internet then moved to television where we made the internet for another TV show that's about the internet."
Hardwick was "stoked" according to Harley.
"The internet's delicious it turns out," Hardwick said while stuffing his face with a chick finger Harley bit, a reference to the Charlie bit my finger meme.
Epic Meal Empire airs 10 PM Sunday on fyi,.

Watch Epic Meal Empire "Fat Midnight" online