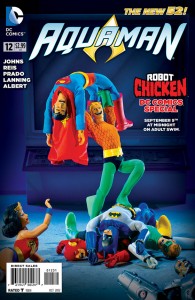 DC Comics is promoting the Robot Chicken DC Comics Special with a Robot Chicken variant cover for Aquaman #12, which goes on sale August 29. It features Aquaman standing triumphantly over the broken bodies of his Super Friends.
"This is the last thing I ever thought we'd put on an Aquaman cover because it's such a bizarre collision of worlds but I think it's one of the best covers we've ever done…I just love the look on Superman's face!" DC Comics chief creative officer Geoff Johns told TV Guide.
It was recently revealed that the under-appreciated superhero joins the Legion of Doom in the upcoming special, which premieres on Sept. 9 at Midnight (ET/PT) on Adult Swim.
"Aquaman will play a pretty big role in the show," said Johns. "In fact, the title could just as easily be How Aquaman Got His Groove Back!"