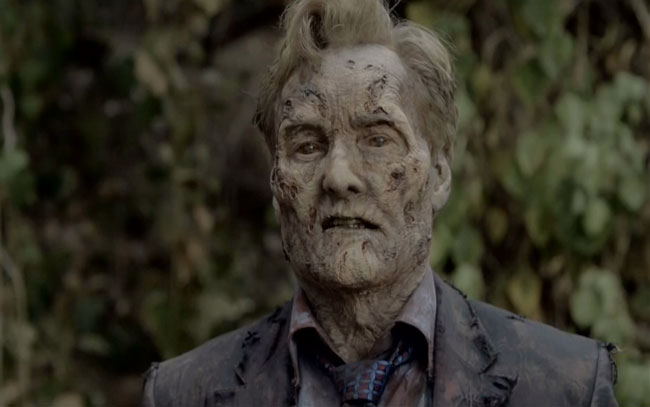 Conan featured a special zombie-themed cold opening for the first-ever joint interview of The Walking Dead cast. Conan O'Brien was transformed into a pale, emaciated creature but it turns out that's just what he looks like without out makeup. More shocking was a joke at the expense of Sophia, who went missing in for half a season before tragically returning as a zombie.
"Sorry Sophia you're on own," read a message written on an abandoned car that received audible gasps from the audience.
The zombie makeup was done by Gregory Nicotero, co-executive producer and special effects makeup artist on The Walking Dead, the host explained in his open monologue.
"The people who did my makeup for the opening segment have won two Emmy awards for their work," O'Brien said. "One Emmy for their work on The Walking Dead and one for their work on The View."
The return of The Walking Dead isn't the only apocalyptic event this weekend. There's also Winter Olympics in Sochi presented by NBC, which is a big deal O'Brien explained.
"NBC will finally get to show somebody who's okay with passing the torch," he joked in reference to Jay Leno taking back the Tonight Show.
The Walking Dead gay storyline revealed