The Sports Illustrated Swimsuit: 50 Years of Beautiful special touted the magazine for being a trailblazer as one of the first magazines to feature women on the cover. Those women were honored with an awards show hosted by former swimsuit model Heidi Klum, who still has her bikini body.
Klum insisted that looking like a super model isn't difficult. She demonstrated by bringing out an army of hair and makeup artists. In a mock photo shoot she performed her signature move "shake and bake" which resulted in an unseen wardrobe malfunction quaintly referred to as a "front wedgie."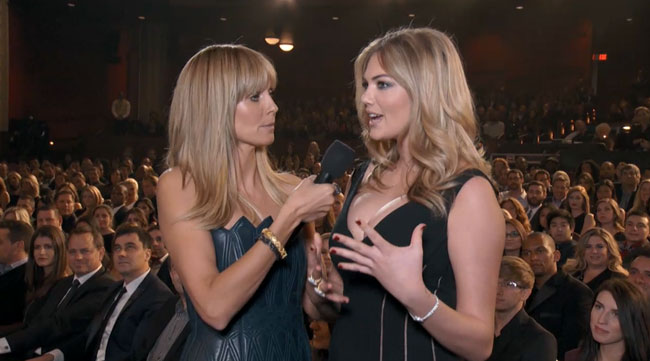 The humor continued as Klum walked through the audience admiring her fellow swimsuit models including the very busty Kate Upton.
"Wow she is stunning," Klum thought in an internal monologue. "What a face. What a smile. And those two big beautiful… eyes."
Klum interviewed Upton about her Arctic shoot and asked if she got any frostbite and where.
"It's okay my eyes were fine," Upton assured her.
Kate Upton shows off her globes in zero gravity photo shoot
Klum didn't just ogle the women. She was left speechless when Howie Mandel came out in a bikini to present her with the award for the fifth sexiest cover.
"My eyes are up here, Heidi," Mandel scolded her.
Top 5 Sports Illustrated Swimsuit covers:
#1: Kathy Ireland (1989)
#2: Kate Upton (2013)
#3: Tyra Banks (1997)
#4: Christie Brinkley (1980)
#5: Heidi Klum (1998)
Model Emily Ratajkowski AKA the Blurred Lines girl is rumored to be the cover of the 50th issue, which will be out February 18, 2014.