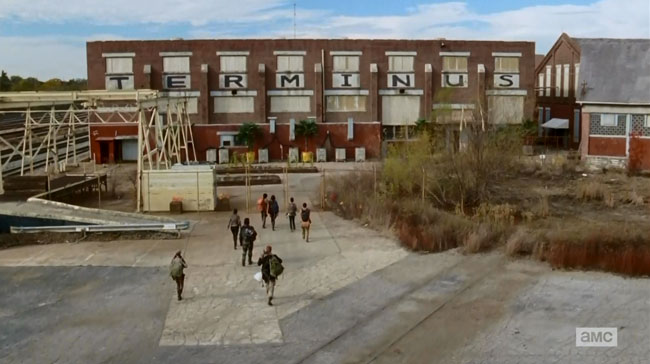 The Walking Dead reaches the end of the line in the season's penultimate episode "Us." Glenn (Steven Yeu) and Maggie (Lauren Cohan) reunite on their way to Terminus. Their groups are apparently the first to arrive but were they following directions in a cookbook?
When Maggie and Glenn arrive at Terminus, it's eerily quiet and the gates are unlocked. A sign tells them to lower their weapon and they will be met. They're greeted by a woman named Mary (Denise Crosby) barbecuing several large slabs of meat on a grill.
"Let's get you settled and we'll make you a plate," she greets them.
Her words could be interpreted as a double entendre like in the classic The Twilight Zone episode "To Serve Man." It could be that Terminus is a trap set by the Hunters, a group of cannibals in The Walking Dead comic book. The Hunters found it easier to hunt humans than animals. And what's easier than letting your prey coming to you?
Rick (Andrew Lincoln) is still on track for Terminus and unbeknownst to Daryl (Norman Reedus), Joe (Jeff Kober) is tracking Rick for killing one of his men. Joe's group will presumably be the last to arrive but will it be as villains or heroes?
Expect this to go one of two ways: Terminus is a sanctuary and Joe's group ruin it or Terminus is trap and Joe's group ended up being anti-heroes, at the very least cannon fodder. Either way Rick and the rest will be caught in the middle.
A preview for the season finale "A" may confirm Terminus is not what is seems. Rick's group enters a room with filled with lit candles and what appears to be personal effects placed as some sort of shrine to the victims possibly. Written on the wall is the word "always."
"Sanctuary for all. Community for all. Terminus, Terminus, Terminus…" repeats a creepy message on an intercom. "Those who arrive survive."
UPDATE:
The Walking Dead season finale "A" confirms Terminus is a trap set by the cannibals known as the Hunters. They catch everyone except for Carol, Tyreese, baby Judith and Beth (possibly).