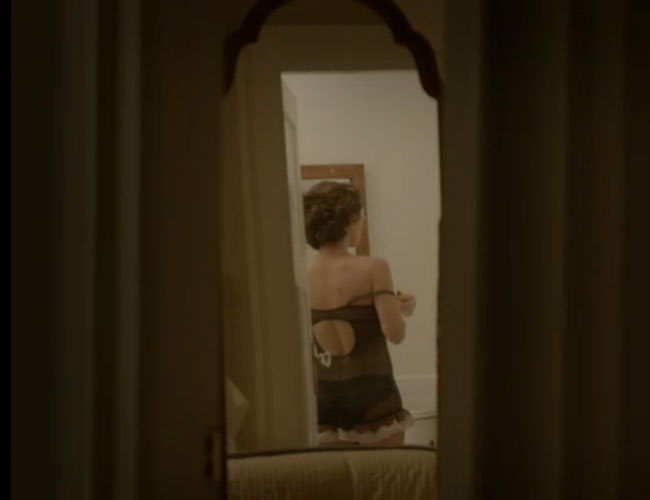 Bates Motel season 2 is winding down and we're just now getting answers to the season 1 cliffhanger, in which Norman Bates (Freddie Highmore) seemingly murders his high school teacher, Blair Watson (Keegan Connor Tracy).
Norman's teacher sees him walking in the rain and offers him a ride. The last time we see Watson alive, she is undressing with the door open. Norman has a hallucination of his mother Norma Bates (Vera Farmiga), who in contrast is dressed conservatively with her hair tied back. Norma accuses his teacher of purposely leaving the door open to seduce him. Norman insists that she's not like that. He runs home and Watson is found dead with her throat slashed the next morning.
The exact events of that night are unknown even to Norman, who experiences blackouts unbeknownst to him. Two semen samples are found in Watson. One from a known convict, who takes the fall for her murder. The other is unidentified until Norman is required to give a DNA sample after being booked for the accidental murder of his girlfriend's father. Sheriff Alex Romero (Nestor Carbonell) attempts to get Norman to submit to lie detector test but he's kidnapped as a bargaining chip by local crime boss Nick Ford (Michael O'Neill).
Norman is held captive inside a small metal box in the aptly name episode "The Box." Over the course of a day, he experiences a mental breakdown. He violently screams and pummels the door with his fist until he settles down by reciting old movie quotes. A rainstorm causes a flashback of the fateful night. Norman remembers having sex with his teacher but don't get too excited. The sex scene is blurry and disjointed to represent the blackout. The whole time he's making love to his teacher he's looking up at his mother, who says she's always with him.
"Norman, you know what you have to do," Norma tells him at the climax.
Although it's consensual sex, the story takes place in Oregon where the age of consent is 18. Norman is only 17 so technically it's statutory rape. The impropriety of the sexual encounter makes it a traumatic event for him and explains why he murdered Watson but not his school-age girlfriends Bradley Martin (Nicola Peltz) and Cody Brennan (Paloma Kwiatkowski). Executive Producer Carlton Cuse says Norman hears these dark voices in time of emotional distress.
"Norman's going through an evolution and as part of that evolution when he goes through any sort of emotional upheaval his mother begin to appear to him," Cuse said in analysis of the episode. "Norman's descending deeper into this other persona and in that state he's sort of guided by these imaginary things that she says to him. We're seeing the pathology of Norman, which is that he's becoming increasingly influenced by this other voice in his head, which he associates with his mom."
Hopefully, we'll see more, less blurry flashbacks when the guilt-ridden murderer submits to the lie detector test in the season finale "The Immutable Truth."
Bates Motel airs Monday 10 p.m. on A&E.