Last Week Tonight with John Oliver has a new host named Giuseppe. Oliver lost the fist annual Miss Last Week Tonight Pageant. Judge Kathy Griffin said Giuseppe won on muscle mass, legs and construction of the head.
"Let me explain why I'm giving you a lower score," Griffin told Oliver. "I look at Giuseppe and I want to have sex with him. I look at you and I want to have sex with Giuseppe."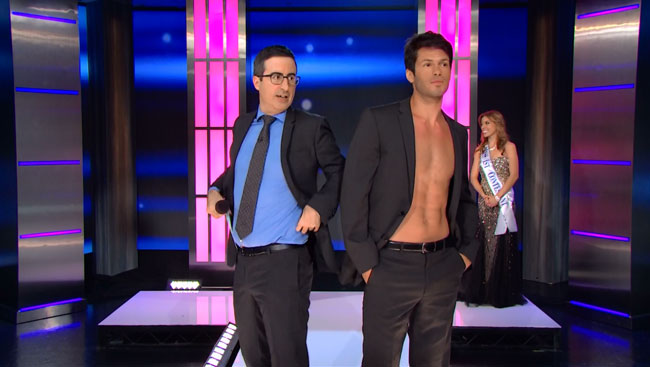 The bit was a parody of sexist pageants. Oliver argued that they are an outdated practice demonstrated by a black-and-white newsreel featuring men measuring women from every state including Alaska, which was specifically mentioned by the old timey narrator because it had just become a state.
Oliver even has problem with Miss America pageant, which touts itself as the largest provider of college scholarships for women. The provide a literally unbelievable $45 million in scholarships he noted. The actual amount is more like $4 according to their tax returns, which he obtained from every state even Alaska. It turns out that the organization is counting scholarships multiple times. Every possible school a scholarship winner could attend is counted regardless of the fact they can only attend one. In other words, what they provide is not the same as what they award. Semantics aside, it's still the largest provider, which is a problem because in order to qualify women must be unmarried and never have been pregnant.
Oliver suggests people change that by donating to the following organization:
Societyofwomenengineers.swe.org
Patsyminkfoundation.org
Rankinfoundation.org
Last Week Tonight with John Oliver airs 11 PM Sunday on HBO.