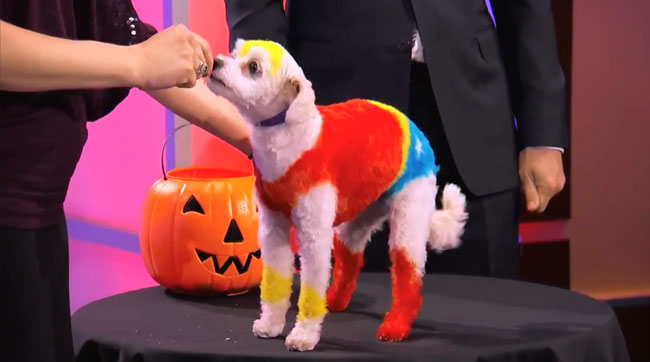 Halloween has literally gone to the dogs! Americans will spend an estimated $350 million to dress up their pets this Halloween according to the National Retail Federation (NRF). Some of these Halloween costumes are truly hair raising. Creative dog groomer Catherine Opson styles and dyes their coats to transform them into other creatures.
Opson showed off her work on Jimmy Kimmel Live's 2nd Annual Canine Costume Parade. Many of the dogs were rescue animals including Twinkle, who is blind. She spends must of her day sleeping and eating so Opson transformed her into a pint-sized panda bear. The costumes also included fictional animals. Ginger, a Chinese crested powder puff, dressed as a My Little Pony complete with a unicorn horn fashioned from its long hair. Winnie, a Maltese, cosplayed as classic Wonder Woman. Some of the designs were more intricate and featured multiple characters like Indiana Jones wrapped in snakes and a Hello Kitty with the entire cast of the Japanese cartoon. There was even a shameless dog dressed as a walking billboard for Jimmy Kimmel Live.
"This is the reason I got into television: to one day have my name spray painted on a dog," said the host.
Last year, the dogs costumes included a zombie, a leopard and a koi fish pond, as well as combinations of characters from The Simpsons and Sesame Street.
Have you ever dressed up your pet and if so as what?